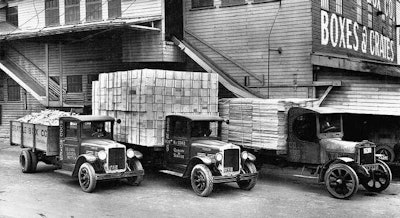 Kenworth Truck Company is celebrating its milestone 90th anniversary during 2013.
It all began in 1923 when Harry W. Kent and Edgar K. Worthington incorporated the Gersix Motor Company as "Kenworth". The company name was formed from a combination of letters from the founders' last names.
That first year, the small Seattle truck manufacturer produced 78 six-cylinder, gasoline-powered trucks. Since then, Kenworth has produced more than 900,000 trucks.
Kenworth says its success and staying power in a competitive business can be traced back to a philosophy established early in the firm's history. The goal was to build the right Kenworth truck for each customer's application to get the job done…and build that truck to last. That philosophy, which continues to be true to this day, resulted in Kenworth establishing a solid reputation for its quality, innovative and durable trucks that are driven by state-of-the-art technology.
"Over the past 90 years, Kenworth has played an essential role in the development of trucks that are more fuel efficient, productive and economical to operate," said Gary Moore, Kenworth's general manager and PACCAR vice president. "It's the foundation that began when Harry Kent and Edgar Worthington incorporated the Gersix Motor Company as 'Kenworth' in 1923, and delivering trucks that provide exceptional performance continues today.