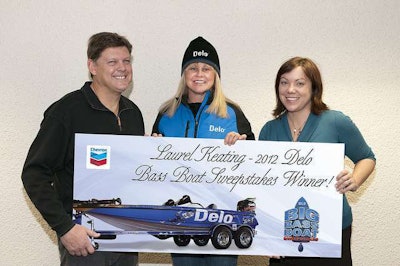 Chevron Products Company has announced the results of its second Delo Big Bass Boat Sweepstakes, which ran from May 1 through October 31, 2012. The Grand Prize for the 2012 event was a fully-outfitted 2012 ZX190 Skeeter bass boat; First Prize was an all-expense paid trip to appear on the "Honey Hole All Outdoors TV Show"* and Second Prize – available to four winners – was a $500 cash gift card each.
This year's Delo Big Bass Boat Sweepstakes Grand Prize was awarded to Laurel Keating of Lumby, British Columbia in Canada. The 2012 First Prize winner was in the United States.
"Winning this contest has been a life changing experience for me," said Laurel Keating. "I want to thank Chevron Delo from the bottom of my heart."
"It's critical for us to find creative and relevant ways to engage with existing and potential Delo customers," said Jim Gambill, direct marketing manager, Lubricants Marketing Americas, Chevron Products Company. "Now in its second year, the Delo Big Bass Boat Sweepstakes has achieved this goal. Excitement around the program has grown and it has provided excellent exposure for the brand across North America. We want to congratulate Laurel, Misty and all our 2012 winners as well as the many people that participated in this year's event."
The 2012 Delo Big Bass Boat sweepstakes was open to legal residents of the United Stands and Canada who are considered legal adults in their state or province at the time of the commencement of the sweepstakes – May 1, 2012.