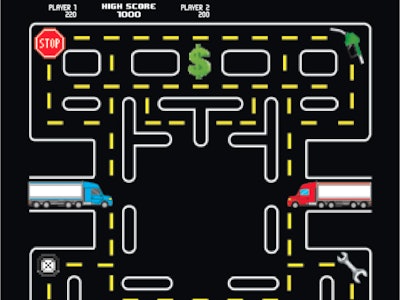 The third and final part of the "Driving Games" series covers what type of rewards to offer drivers and the social aspect of the competitions. Part 1 covered the benefits of using technology and games to engage drivers and what type of games are available. Click here to see it. Part 2 detailed how to make game play fair, how to get drivers on board and what type of third-party services are available. See it here.
4. Social competition
Being recognized among your peers can be as gratifying as getting a monetary reward. With the widespread use of smartphones, tablets and in-cab computing platforms, drivers have become more conscious of and engaged with their social status, leading many experts to believe that social networking eventually could become an important part of fleet management technology.
Recognizing this, many fleets are using Facebook and other social media sites to publicize driver achievements and milestones. Social networking also might become engrained in future fleet management systems.
In March, XRS plans to include a social networking tool as part of its new Web-based system that includes a small relay device connected to the vehicle's databus. The device uses Bluetooth to send information to mobile devices. The XRS app can be installed on a variety of Android smartphones and tablets.
Besides using the mobile app, drivers can log in to the XRS system from any device with a browser to view their electronic logbook, fuel and safety performance scorecard, miles driven and other information. They also can see how their measurements compare to the fleet average and create their own groups to compare performance with their peers.
The new version of XRS soon will have features that foster competition among drivers through social media. XRS plans to launch a social media platform called X Nation for drivers to interact with their peers across the country. Drivers will be able to post free-form messages and share their XRS scorecard data, images, videos and other content from devices using a "tap and hold" option.
The basis for these new features is to keep drivers constantly in connection with their scores and social media. "When content slows down, interaction slows down," says Christian Schenk, XRS senior vice president of product strategy. "Even when drivers are not behind the wheel, the competition is still there."
5. Creative rewards
Cash incentives often have a short shelf life, getting buried in drivers' payroll and settlement sheets and going toward paying bills. The most effective rewards are big-ticket items that drivers want but are less likely to purchase themselves.
Using technology and game dynamics such as points has helped ProFleet generate enthusiasm about its rewards program. The company used to give drivers a $500 bonus for passing a U.S. Department of Transportation roadside inspection with no violations.
"If a guy had a high utility bill or his house payment was due, that money really would not go toward a bonus," Gregory says. "With this, we've rolled that $500 into points, which the driver can turn into a Christmas present or a truck GPS unit. It means a lot more to him."
Drivers redeem their Drive for Gold points from an online catalog. The Stay Metrics platform allows fleets to set their own budget for how much to reward each year. Fleets that use the platform have a budget that ranges from $300 to $1,500 per driver per year.
Overall, the rewards program has improved morale and productivity, Gregory says. "Our fuel mileage is up, and our maintenance costs are down in little increments," he says. "Our on-time paperwork is up 80 percent."
By engaging drivers in a rewards program, technology easily makes it possible to share more information to all drivers and not just those who would otherwise demand most of your time and attention.