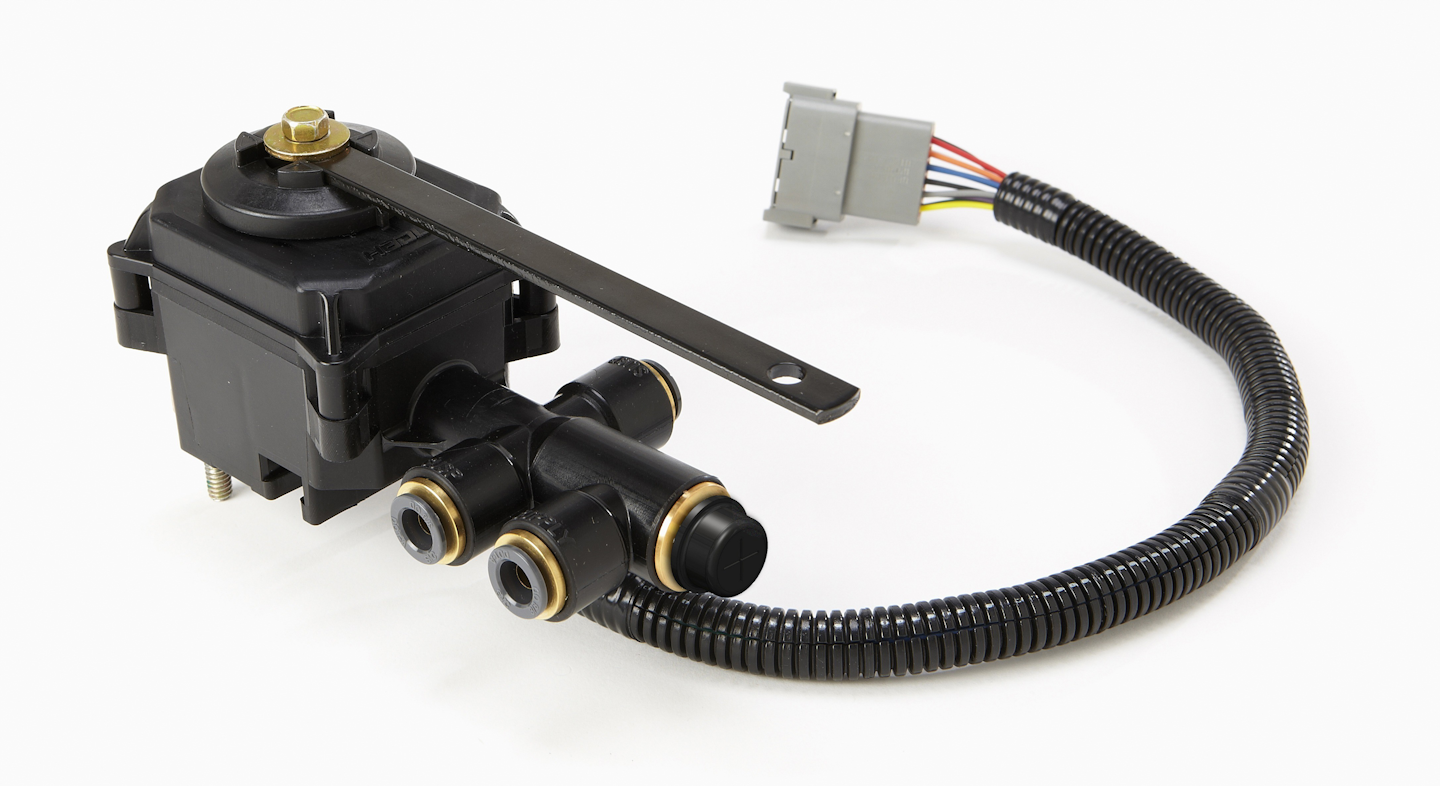 Hadley introduced its patented SmartValve at the American Trucking Associations' Technology and Maintenance Council's Annual Meeting in Nashville this week as a solution to help fleets attract and retain drivers – the SmartValve saves drivers time and effort, particularly in operations with frequent coupling, and helps reduce injuries.
Until now, electronic height control systems have required several separate components: the valve manifold itself, an external sensor, and the associated electronics. Hadley's SmartValve combines these devices into one simplified and compact solution, fitting within the same envelope as a mechanical height control valve. "The SmartValve is based on Hadley's proven Smart Air Management System technology used for more than 10 years in rugged specialty vehicle operations", said Hadley President Bob Dubsky. "We are confident that this cost-effective, integrated system will be quickly adopted by the mainstream Class 8 markets, because SmartValve's wide-ranging benefits are tailored specifically to them."
Installed on the drive axle suspension, the SmartValve allows for convenient raising of the tractor frame to assist in raising a trailer whose landing gear are too low or lowering one too low, taking the stress of the operation off of the driver's back. There is no need to crank the landing gear as often or as far, and fewer trips out of the cab are required for adjustment. With a mechanical valve, if the trailer is too high when coupling, drivers are forced to adjust the landing gear with the weight of the trailer fully resting on the landing gear and suspension.
Extensive testing at the Bosch Automotive Proving Grounds validated the time saved by SmartValve in these operations as compared with mechanical height control valves. In high-frequency drop-and-hook, with four coupling events per workday, SmartValve saves each driver a week's worth of time, every year. That equates to increased productivity and annual savings of $1,350 per driver for the fleet, Hadley estimates.
Future applications for the valve may include automatic lowering at highway speed to enhance tractor aerodynamics, company reps says. Current vehicle design doesn't allow for the option, but in future, says Hadley reps, the existence of SmartValve will provide OEMs with a tool to build into their suspension and frame designs. Hadley tested this technology at the Bosch Automotive Proving Grounds with extensive SAE J1321 Type II Fuel Economy Testing. The results show a 0.7 percent improvement on the specific tractor model tested at low ride height.
The SmartValve Electronic Height Control System is available today as a retrofit kit for specific applications, with additional coverage expanding rapidly in the months ahead. SmartValve will be available later this year for OE installation, Dubsky said. "By addressing key challenges facing the Class 8 industry, the cost-effective SmartValve can play an important role in your fleet's operational success."