A recent uptick in freight volume likely will continue as most fundamental drivers look positive, says the head of a leading transportation forecasting firm. One thing that doesn't look so strong despite considerable attention is the near-term adoption of natural gas as an alternative to diesel, says Eric Starks, president of FTR Associates.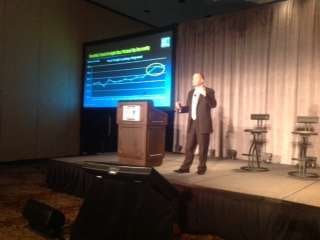 Speaking to attendees at Heavy Duty Dialogue 2013 in Nashville, Tenn., Starks said that freight was steady throughout 2012 but picked up in November and December. "It looked like raw fundamental growth that can't be explained just by Hurricane Sandy," Starks said. "We're starting to get cautiously optimistic about where things are going."
Just about all key drivers of freight demand are positive, Starks told industry suppliers and others at the event, which is presented by the Heavy Duty Manufacturers Association. "We believe housing has turned the corner," he said, citing increases in housing starts and sales of new and existing homes as well as a reduction in housing inventory. "The automotive market is doing very well," Starks said, adding that "getting above 15 million [vehicles sold per year] at this point in the recovery is a very good sign."
Orders for core capital goods has been rising dramatically over the past several months, and that's an excellent indicator for what businesses will be doing in the future, Starks said. "The reason why we're optimistic is that this was occuring during the 'fiscal cliff' discussion." Meanwhile, businesses have lots of cash; manufacturing is picking up and inventories are extremely low.
A deceptive GDP number, Washington and China
At first glance, the nearly flat Gross Domestic Product growth might appear troubling, but it resulted from two factors: A draw-down in inventories and lower defense spending, Starks told HDD 2013 attendees. While lower inventories is a negative in GDP calculations, it's exactly what trucking companies want to see because it spurs future freight activity.
One obvious potential problem is the ongoing fights in Washington over across-the-board budget cuts, the federal deficit and the federal debt ceiling. The budget cuts and deficit, while important, aren't make-or-break for the economy or trucking, Starks said. "The one we cannot get through is the debt ceiling issue. What happens if we default on our debt and we don't raise the debt ceiling? All hell breaks loose." The result will be higher interest rates, a potential collapse of the dollar and probably a deep recession, he said.
Another concern for FTR is China — specifically a housing bubble and the effects of inflation. A slowdown in China could hurt the rest of the world, but there are some potential upsides — at least for certain businesses, Starks said. For example, one reason inflation may grow in China is that a rising middle class doesn't want to work in factories any longer, so manufacturers will have to pay workers more. Throw in transportation costs, and the result could be more "near-shoring" of manufacturing in Mexico. That would mean that container traffic that now moves west to east could become truck traffic moving north.
Near-term outlook and the driver market
For 2013, FTR expects to see about 5 percent growth in loads, which is about same as 2010. "But we're not jumping up and down because we are still digging out of the hole we created in 2009," Starks said. With the housing market in rebound, flatbed in particular will be strong. FTR projects a 9 percent increase in flatbed loads this year. FTR thinks that 2014 could be a good year, but it's likely that the recovery will fade by the end of 2014 or early 2015.
Meanwhile, despite solid freight demand, freight rates likely will not rise that much during the first half of 2013, Starks said. That will change in the second half of the year due primarily to the capacity effects of the changes in truck drivers' hours-of-service regulations. FTR expects HOS changes to mean a productivity hit of 3 percent. By the end of 2013, rates could be up 10 percent year over year, Starks predicted.
The productivity hit from the hours HOS changes will exacerbate the driver shortage as will several other trends, including electronic onboard recorders and speed limiters. The result will be a growing, long-term driver shortage that could change the industry, Starks said. "The large fleets tend to be the winners in a driver shortage."
Reality check for natural gas
Natural gas as an alternative for diesel is a hot topic in trucking, but at least for the rest of this decade, the reality won't match the hype, Starks argued. For starters, neither compressed natural gas nor liquefied natural gas matches the energy density of diesel, so more or larger fuel tanks would be needed to match the same range. Among other challenges, this would significantly increase the weight of the truck, which run counters to fleet priorities in terms of both fuel economy and payload.
But the real problem with natural gas is the acquisition cost of trucks with natural gas engines. "The upfront capital cost has to go away for natural gas to be competitive," Starks said. According to FTR's analysis, in 2012 there was no economic benefit whatsoever for either short-haul or long-haul operators compared to diesel, he said. By 2015, short-haul operators could see some benefits but not long-haul operations.
By 2020, there could be significant benefits for short-haul operations and some benefit for long haul, Starks said. However, all of this assumes the continuation of federal subsidies for natural gas power, and FTR doubts this will be the case. "Maybe 15 percent of the market will have an opportunity to play in the natural gas market in the coming decade."