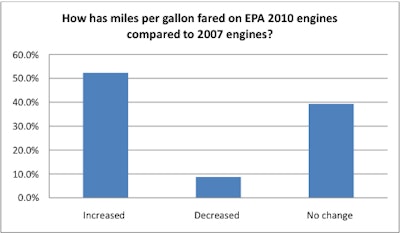 A recent survey from acquisition firm Transport Capital Partners shows carriers have offered varying opinions on their experiences with engines equipped with 2010 emissions tech compared to those equipped with 2007 emissions technology, particularly relating to fuel economy and maintenance costs.
TCP's survey says that more than half of responding carriers said that fuel economy is better with the new engines, while about 40 percent say there's been no improvement.
However, results vary quite a bit between large carriers (more than $25 million in annual revenue) and smaller carriers, as 57 percent of large carriers say they've seen better fuel economy with 2010 engines and just 32 percent of small carriers reported improvement.
As for maintenance costs, 53 percent of total responding carriers say there's been no change in costs relative to engine maintenance. But a large chunk of respondents did say they've spent more on engine maintenance on 2010 engines — 43 percent.
Among large carrier respondents, 47 percent said 2010 engines cost more to maintain, while 48 percent said 2007 engines have higher maintenance costs.
Nearly 70 percent — two-thirds — of small carrier respondents said they'd seen no change in maintenance costs, and about 30 percent said maintenance costs have increased.
TCP says, though, some of the differences between small and large fleet reporting may be caused by the differences in measurement and tracking.