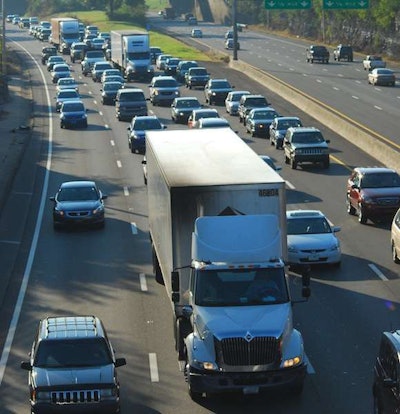 Your trucks and drivers may be spending more time in traffic, but that's not all bad, says a report from Inrix, as increased gridlock can be taken as a sign of hope for the economy in 2013.
For the first time in the last few years gridlock in the month of December did not completely plummet from November, according to Inrix's Gridlock Index, suggesting that "the economy finally may be turning the corner," says Inrix CEO Bryan Mistele.
Traffic congestion from December of 2011 to December of 2012 dropped just three percent, whereas from 2010 to 2011, congestion year-over-year dropped 20 percent.
Moreover, November 2012 marked the first month-over-month increase in traffic congestion in nearly two years, says Inrix. The Gridlock Index in November saw a 15 percent increase in traffic congestion.
The GI mirrors data from the Conference Board's Leading Economic Index, Inrix says.
The company pulls its numbers from the Inrix Traffic Data Archive database that collects data from public and private sources and a crowd-sourced network of 100 million vehicles and mobile devices.
As a caveat, though increased gridlock points to more economic activity, trucking already loses billions of dollars annually in the form of time and money spent sitting on crowded roads — more on that here.