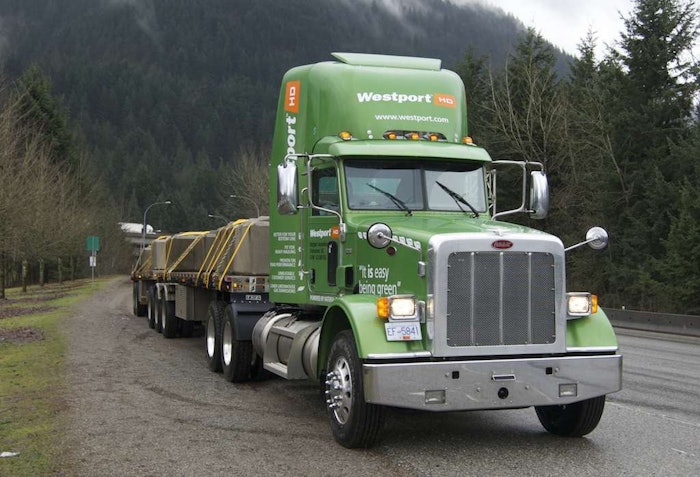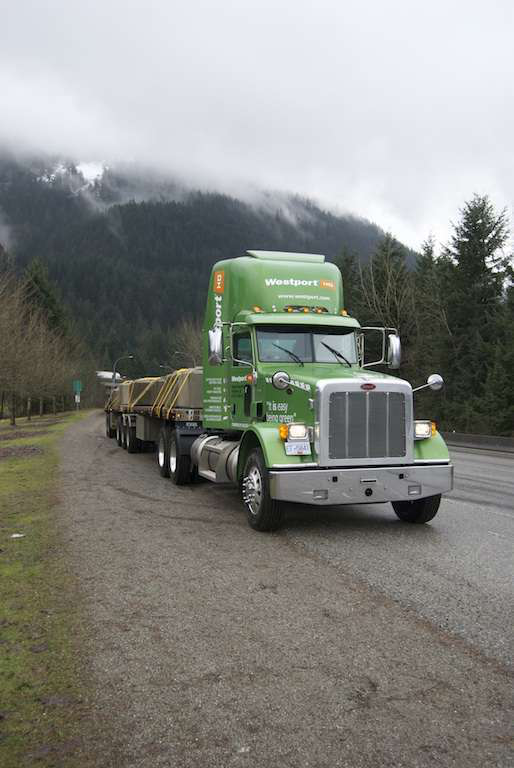 Natural gas truck engines are on everyone's lips these days, and Westport is clearly the technology leader in this field. The company is probably best known today for its partnership with Cummins and the resulting ISL 8.9G – and the soon-to-be-unveiled ISX12G – natural gas engines. But the company also produces its own proprietary line of natural gas engines, including the Westport 15L, a 475-horsepower high-pressure direct-injection natural gas engine that I was in Vancouver to take into the Cascade Moutnains.
As with the Cummins-Westport family of natural gas engines, the Westport 15L uses a Cummins "donor" engine as its foundation. Rest assured – according to federal and U.S. Environmental Protection Agency law – that, once modified, these engines are considered entirely Westport products. Last year, the company began repainting its engines a distinctive orange color and will brand them with "Westport" badging this year. (Cummins-Westport engines will continue to sport Cummins red.)
While Cummins-Westport engines are spark-ignited, Westport 15L engines rely on a small shot of diesel fuel to initiate combustion. The company says that out of the total fuel capacity on a Westport 15L-powered truck, 95 percent of diesel fuel is replaced by liquefied natural gas – with 5 percent of diesel remaining to initiate combustion. The resulting engine allows trucking companies to employ natural gas engines in severe-service applications, says Stephen Ptucha, director of product management for Westport. Fuel costs are reduced drastically because natural gas makes up nearly all of the fuel burned, and the diesel fuel is burned at a constant rate and does not vary with throttle input; the shot required for ignition is a constant value.
The morning of my drive started out at Vedder Transport in Abbotsford, B.C. There, vice president Fred Zweep told me how Vedder is running a fleet of 50 Peterbilt 386 and 367 tractors with 475-horsepower Westport 15L engines on tough drives into the Cascades – the same run I'd be making myself later in the day. The trucks run in a slip-seat day-and-night operation and have accumulated more than 3 million miles since inception little more than a year ago, with only a few fuel injector failures hampering operations.
Engine: Westport 15L
Horsepower: 475 hp
Torque: 1,750 ft.-lb.
Front Axle: 13220-lb. (Dana Spicer)
Rear Axle: 44,000-lb. (Dana Spicer 4:10 ratio) dual axle
Transmission: Fuller 13-speed
Tanks: Dual 120-gallon LNG tanks, 50-gallon diesel tank
Length: 40 ft.
Width: 102 in.
Height: 13.5 ft.
"Kermit" is what the folks at Westport call their 2012 Peterbilt 367 daycab tractor. It's an apt name: Kermit is painted in the muted neon green Peterbilt reserves to convey a not-so-subtle environmentally friendly message to the public on alternative fuel vehicles. After you open the hood and take a look at the engine; the Westport 15L doesn't look all that different from a conventional diesel. Granted, there are a few component and routing differences, but you'd have to be an expert technician – or at least have two engines side by side – to spot those changes at a glance.
Things are a bit different on the chassis. Kermit is equipped with two large 120-gallon LNG tanks, and there's also a much smaller 50-gallon diesel tank and the smallest possible 9-gallon diesel exhaust fluid tank. LNG is a cryogenic fuel; it typically has a temperature of about -260 degrees Fahrenheit when liquefied at the liquefaction plant, and about -220 degrees when it goes into the truck tank. Special insulation is required, but again, to the untrained eye, the overall look is not too different from a conventional tractor-trailer tank configuration – a testament to the thought and effort Westport has put into its integration efforts.
Kermit's first impression is a positive one: The Westport 15L engine noticeably is quieter than a conventional diesel, both at idle and at road speeds. Even more important, I can't tell any discernable difference from a diesel in terms of torque when launching the truck; acceleration is smooth with predicable shift points. Even with twice the weight I'm accustomed to pulling, getting Kermit up and moving is clearly no sweat for this natural gas engine.
That initial impression holds true as the drive to Boston Bar progresses. Any doubts you have concerning the ability of a natural gas engine being able to perform in a severe-service application will be cast aside quickly. The driving experience – in terms of engine performance – is a nonevent compared to diesel; in terms of every considerable metric, this engine performed just as well.
I pulled out of Abbotsford heading East on Trans-Canadian Highway 1. This road runs straight through the pancake-flat Fraser Valley – on this day notable mainly for the surprising amount of traffic present. On this portion of the run, things deceptively were easy. Once at speed, Kermit and the natural gas engine weren't sweating a bit. I always find Peterbilts a delight to drive with great visibility and superior handling characteristics; both features were a bonus given the traffic around us. But I was more delighted to discover that there was plenty of oomph available from the Westport 15L if I decided to ease over in the left-hand lane and pass. Once again, putting my foot to the floor brought an instant response and impressive acceleration – even with 140,000 pounds behind me.
Things got more interesting when I turned north onto Trans-Canadian Highway 1 leading into the Cascades and eventually to Boston Bar. It's one of the most fundamental tasks a driver faces: to take power and torque from a powertrain and apply them in the most effective way to make a rig respond effectively and efficiently to meet the road conditions at hand. Drivers don't have to be concerned that they'll start out with a deficit in that area with a natural gas engine – even in severe-service high-capacity hauls into the Cascade Mountains.