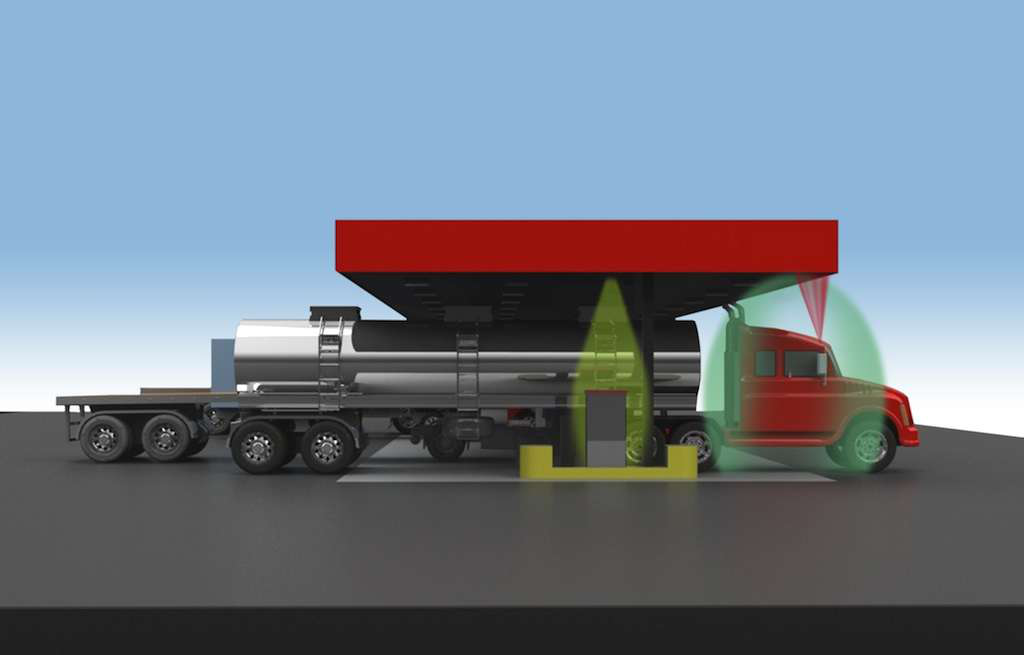 When fuel prices rise, fleet owners naturally grow suspicious of fuel theft. Their suspicions mostly are aimed at drivers attempting to use company fuel cards to purchase fuel for someone else.
PIN numbers, daily purchase limits, limited fuel locations and other security measures can be thwarted by a driver who keeps the pump active while another driver pulls up to the pump. Managing fuel cards also is an administrative burden.
Several years ago, two companies found a way to use technology to boost the security and efficiency of fueling at truckstops. These systems require that the proper vehicle be at the pump to authorize a fuel transaction. The Z-Con and QuikQ systems now are available at hundreds of truckstops nationwide.
However, the growth of high-tech fueling systems has not detracted from the number of fleets using card-based purchasing systems. Recent acquisitions of companies that provide fuel cards and electronic payment systems show that the demand and growth opportunity remains strong. 
High-tech fueling
Electronic Funds Source has completed installation of the Z-Con fuel purchase security system at all Pilot Flying J locations in the United States and Canada. The system combines ultrasonic and infrared technologies with vehicle telematics to authorize fuel transactions.
Z-Con is offered for a small upfront cost and a monthly fee per truck and comes with a variety of products and options. While the base model is used for cardless fuel transactions, additional functionality can be added to capture information such as engine idle time, fuel tank levels prior to and after fueling, and odometer readings to calculate accurate fuel consumption and MPG. Z-Con customers also can use satellite tracking to monitor drivers' routes.
Fleets that use Z-Con will continue to use the EFS fuel card for cash advances and nonfuel transactions, and to purchase fuel at locations that are not equipped with Z-Con.
Comdata sold its SmartQ RFID cardless fueling system to Love's Truck Stops and TA Travel Centers. Loves is further along in having the system installed since they began before TA. "So far, it has worked as planned, and we continue to add fleets and transactions," says Randy Morgan, Comdata's executive vice president of corporate payments.
While SmartQ was developed by QuikQ and is available to other fuel payment vendors, Comdata and QuikQ's DFConnect products currently are the only fuel payment methods using it.
SmartQ uses a low-cost RFID tag placed in the vehicle. The software and RFID equipment are designed to detect a truck's RFID tags in the fueling lane and turn on dispensers wirelessly with little or no driver data input. Pumps are turned off automatically by RFID software after the truck leaves the fueling bay.
Cardless fueling also has arrived for alternative fuels. Nopetro, a Florida-based provider of compressed and liquefied natural gas, recently opened a public fueling facility in Tallahassee, Fla., and has plans to open 15 more in the next three years.
In addition to card readers, the Nopetro sites will have wireless options for fueling, such as a vehicle tag, proximity key card or a transponder connected to the onboard vehicle computer. It also offers an online fuel management system adjustable to each fleet customer's needs.
The house of cards
Fleet cards have more value to fleets and cardholders than simply purchasing fuel. Fleet card programs are used widely to disperse cash advances, payroll and payments to vendors, among other electronic transactions. Judging by the number of acquisitions, no one is expecting their use to fade.
EFS purchased TCH in 2011, and in October it purchased T-Chek Systems from C.H. Robinson Worldwide.
"These are companies that are so close in the things we do," says Kevin Farnsworth, EFS chief technology officer. "As we look at both companies, our goal is to provide something better for everyone."
In September, WEX acquired Fleet One for $369 million. Fleet One generates annual revenue in excess of $56 million with 210,000 active cards accepted at 60,000 locations, including 6,700 over-the-road locations.
Fleet One's over-the-road business gives WEX an immediate presence in the heavy truck market in the United States and Canada, while the blending of Fleet One and WEX's small fleet and private label businesses should provide greater scale.
By all indications, the acquisitions should complement the rise of RFID, infrared and other technologies with electronic payment systems to increase security and convenience for fleet operators and drivers.