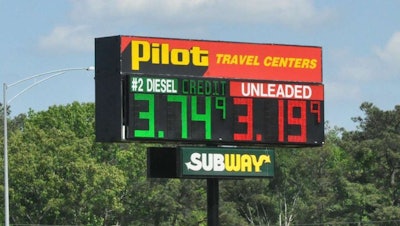 Pilot Flying J CEO Jimmy Haslam says he "absolutely did not" know about the ongoing fuel rebate withholding scheme the company allegedly engaged in for years prior to the April 15 raid of the company's headquarters by the FBI.
Haslam spoke today to an audience of several hundred fleet and industry representatives at the 2013 Scopelitis Transportation Seminar in Indianapolis, where he gave a brief address before being asked a series of questions by American Trucking Associations President Bill Graves.
Graves asked Haslam directly whether he knew about the scheme, saying that points in the federal affidavit released April 22 indicate Haslam may have known about the alleged defrauding of trucking companies.
Haslam said he "was absolutely not aware" of the skewing of manual rebate adjustments, but said that of the 5,000 trucking companies Pilot works with, 250 had some type of adjustment made. Roughly 400 companies were on a manually calculated rebate program, Haslam said.
The two main goals for Pilot now, he said, are to repay any money owed to trucking companies — with interest — and then work to regain the trust of trucking companies and the industry, Haslam said.
He also encouraged fleets to work directly with Pilot in seeking repayment owed, instead of filing a lawsuit. "You'll get 100 percent of your dollars and you'll get them quickly," Haslam said, adding the company will have all money repaid by July.
A Scopelitis representative prior to Haslam's speech said the law firm — which represents about 5,000 trucking companies, too — is recommending to its clients to take a wait-and-see approach to filing lawsuits, and that suing may not be the best route. In a letter to its members earlier this month, ATA also did not recommend litigation as, necessarily, the appropriate course of action, but instead said it would monitor the situation to determine the best course for ATA members.
Haslam said since the raid in April and uncovering of the affidavit, the truck stop chain has "zeroed in on" the 250 companies with adjusted calculations to ensure they receive repayment and interest owed. Haslam said he's been on the ground, being part of the negotiations with carriers.
After they finish working with those 250 carriers, Haslam said he and Pilot will perform an audit on all 5,000 of its contracts to ensure no customers are owed any rebate funds.
Moreover, all customers will be removed from manual rebate calculations after June of this year, Haslam said. "We're committed to righting all of the wrongs."
The company has also worked closely with its banks and the companies it has oil contracts with, and both its fuel supply and lending institution are in good standing, Haslam said.
The company has seen since the middle of April a small downturn in sales, but this week, sales have actually picked up.
Addressing concerns from Graves over future preventive measures, Haslam said he hopes there's "a definite change in the culture" of his sales team. He also said that with the end of manual rebate calculations and the hiring of a compliance officer, concerns of the rebate withholding resurfacing should be mitigated.
Haslam pointed to the company's doubling in size in the last five years as part of the problem. "The proper checks and balances" for the growth were not in place, Haslam said.
He also said the company has been working diligently and will continue to do so mending relationships with its customers and the industry as a whole. Pilot extends to its customers each week about $500 million of credit, Haslam said, and at any given time the company has in reserve between 60 and 70 million gallons of fuel, which is worth about $250 million. Both, he added, he sees as a sign the company cares about the industry's wellbeing, he says.
More to that point, Haslam said, the company is currently investing tens of millions in renovating its truck stop showers and bathrooms. Also, by the end of the year, Pilot will be the first truck stop chain to have diesel exhaust fluid at every diesel lane at every one of its locations, Haslam said. The company's also working with Clean Energy to build 150 "strategically located" liquefied natural gas lanes.