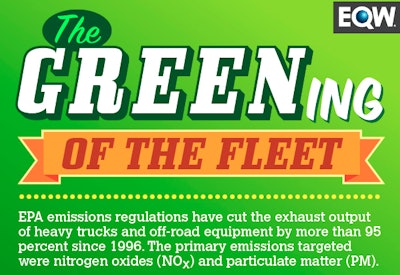 How have tightening emissions standards impacted the amount NOx, particulate matter and other pollutants put in the environment by heavy trucks since tiered implementation began in 1996?
That's the very question CCJ sister site Equipment World sets out to answer with its latest infographic, "The Greening of the Fleet", published this week.
The infographic takes a look at how emissions have been reduced so far, but also offers a projection of how they'll change once the entirety of the U.S. truck fleet has exchanged their pre-2010 model engines for those equipped with modern emissions technology.