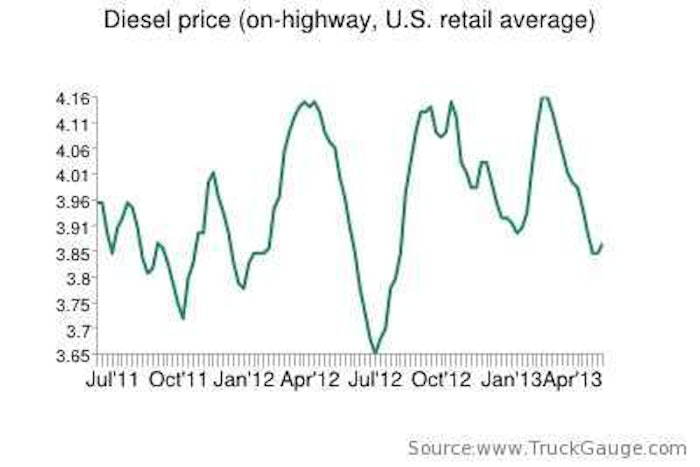 The national retail price for on-highway diesel Diesel prices rose 2.1 cents a gallon during the week ended May 13, halting at 10 weeks the recent string of weekly decreases. According to the U.S. Department of Energy's Energy Information Administration, the national average price is $3.866 a gallon — 13.8 cents below the same week last year.
Diesel prices rose in all but one region — the Central Atlantic, where the average price dipped just a tenth of a cent. The largest increase was 5.3 cents on the West Coast (excluding California). California has the nation's most expensive diesel on average at $4.042 a gallon. The cheapest diesel on average is in the Gulf Coast region where the average price is $3.739 a gallon.
The latest data represents a milestone: It's the 1,000th week that DOE has reported diesel price data. The following are some statistics and noteworthy observations about the price of diesel over those 1,000 weeks –dating back to the week ended March 21, 1994:
Average price: $2.121
Highest price: $4.764 on July 14, 2008
Lowest price: 95.3 cents on Feb. 22, 1999
Largest weekly increase: 34.6 cents on Oct. 5, 2005
Largest weekly decrease: 28.1 cents on Oct. 31, 2005
Most straight weeks of increases: 15 weeks (June 14, 1999-Sept. 20, 1999 and Dec. 6, 2010-March 14, 2011
Most straight weeks of decreases: 18 (Nov. 24, 1997-March 23, 1998)
During the entire 1990s, the gap between lowest and highest price was 37.6 cents – less than the increase in just two weeks in September and October 2005 in the wake of Hurricane Katrina and Hurricane Rita. The average price during the 1990s was $1.138.
From July 21, 2008 to March 16, 2009, diesel prices fell in 33 of 35 weeks – a period during which the price plummeted by more than $2.70. The streak started the week following the all-time high price.
There was no change in diesel prices week to week 33 times out of 1,000. Only twice has it happened in consecutive weeks – in October 1995 and October 1997.
Diesel prices have risen 10 cents or more week to week 28 times. Five of those came in consecutive weeks during February and March 2008, resulting in a total increase of 69.4 cents.
The first double-digit weekly increase was an 11.1-cent jump during the week ended Jan. 24, 2000. To that point, the largest weekly increase had been 5.6 cents four years earlier. With prices rising another 5.2 cents in the two weeks following, the 16.3-cent price spike – at least by contemporary standards – and a sharp drop in freight volume often are blamed for sparking the collapse of thousands of cash-strapped owner-operators and small trucking companies. At the time, few carriers had active fuel surcharges since the price of diesel had been so stable for so long.
Prices have fallen 10 cents or more in a week 18 times since the first time it happened in September 2005. Seven of those decreases were in consecutive weeks during October and November 2008, resulting in a total drop of more than $1.21.
Diesel first crossed the $2 threshold in late September 2004. It has been above $2 ever since except for a 10-week period between mid-December 2004 and mid-February 2005. The lowest price since February 2005 was $2.017 during the week ended March 16, 2009.
Diesel surpassed $3 a gallon for the first time in early October 2005 following Hurricanes Katrina and Rita.
The historic run-up in 2008 produced the first $4 a gallon diesel in April 2008. In 24 weeks from late January to mid-July, the price of diesel soared $1.505.
Gasoline nationwide has been higher than diesel 248 times while diesel has been higher in 749 weeks. On three occasions – Aug. 24, 1998, March 6, 2000 and March 26, 2001 – national average gasoline and diesel prices were the same.
The last time that the price of gasoline was higher than the price of diesel was the week ended June 22, 2009.
Complete diesel price information is available on EIA's Website.