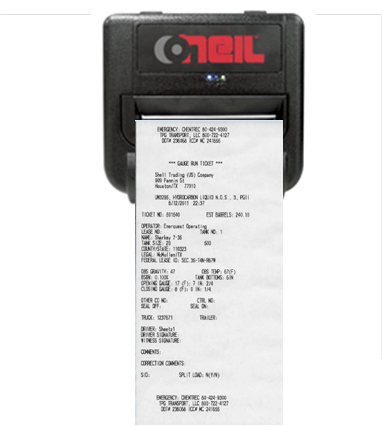 The combination of horizontal drilling and hydraulic fracturing technology with some of the world's largest shale gas and oil reserves has put the United States on track to become a top energy producer. U.S. natural gas capacity is expected to expand 23 percent by 2023. Total crude oil production is now at the highest level in 20 years and growing.
Oil and gas exploration and production has created new opportunities for commercial and private fleets as well as technology suppliers to meet their unique information needs.
PeopleNet, a provider of Internet-based and integrated onboard computing and mobile communications systems, announced at the National Private Truck Council Education Management Conference and Exhibition in Cincinnati, April 28-30, that two of its customers with operations in the energy industry have implemented custom applications it designed for the energy industry.
Oil and gas hauler Blueknight Energy Partners is using PeopleNet's Crude Oil Workflow application.
W. Scott Morgan, Blueknight IT applications manager, said the application PeopleNet customized for the crude industry's specific requirements is helping the 200-truck crude fleet improve accuracy and save time.
"We're in a fluid industry, so it's important that drivers get updated information about pickups and deliveries in real time. Since the Crude Oil Workflow application is tied to our dispatch system, drivers no longer have to call all day long for load updates. That's a huge time-saver for us. Electronic tickets and invoicing ensure accuracy to save time and make it easier for our customers as well."
The Tulsa, Oklahoma-based fleet began using PeopleNet eDriver Logs last summer and soon added the Crude Oil Workflow application. "The PeopleNet System is really easy to use; it walks you through the process," said Morgan. "The interface is highly intuitive, and our drivers figured it out quickly."
The Crude Oil Workflow application consists of three core screens that walk the driver through a pickup and delivery:
When a driver arrives at his first stop, a custom Pickup Screen appears with customer and load and trailer information pre-populated instead of the standard form message.
The Delivery Screen appears when the driver arrives at a delivery location, and a timer automatically records the time spent unloading; after 60 minutes, the "Reason for Detention" and "Comments" fields are required.
The Rejection Screen is used when analysis of the oil reveals it is out of specification and cannot be hauled; the driver presses the "Reject" button on the Pickup Screen to access the Rejection Screen.
PeopleNet says it can customize data fields on the ticket to support the unique needs of the hauler. The tickets can also be printed and handed to customers at the well site.
Printing a customer ticket "works like a charm," says Morgan. "The Datamax-Oneill MF4T printer that we selected is built like a tank."
Blueknight plans to extend the application to its field services fleet that operates around 150 trucks that haul natural gas condensate, also known as "drip gas."
Another PeopleNet customer, Heckmann Water Resources (HWR), has more than doubled the fleet to over 1000 trucks at the end of 2012. The company specializes in moving, treating, and disposing of water generated by the hydrofracturing process to extract shale gas. Heckmann is building a national footprint across its environmental service offerings and has more than 3,000 employees and operates in more than 70 locations across 26 states servicing more than 20,000 customers.
Mark Ridgley, Heckmann's vice president of business technology, said that PeopleNet's technology has helped the company standardize operations and give management visibility into each site's operation.
"They've helped us adapt the software for each region's different laws. And integrating PeopleNet's open platform with the company's financial system and proprietary dispatch application has been key to becoming more efficient."
Heckman engaged PeopleNet's Professional Services team to design customized work order forms that help Heckmann drivers complete any type of pick-up or disposal work order without touching paper. The dispatch application sends work orders through the PeopleNet system, which walks the driver through all required information.
The information entered by the driver is captured in the back-end system for accurate paperless invoicing. Drivers capture customer signatures with PeopleNet's Tablet to immediately initiate invoicing, along with the required electronic documentation.
Heckmann was able to eliminate handling five to six compliance forms and supporting work tickets on about 200 loads per day. The savings "is a huge help for our customers, who no longer have to allot space for storing physical documents for years. It also saves the cost of forms purchased from the state," Ridgley says.