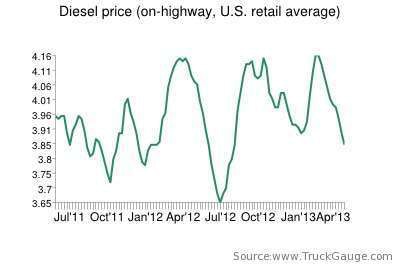 Diesel prices are down for the ninth straight week as the national average retail price for on-highway diesel dropped 3.6 cents to $3.851 a gallon during the week ended April 29, according to the U.S. Department of Energy's Energy Information Administration. The national average price is at its lowest level since early August. Diesel prices are 22.2 cents lower than the same week last year.
Diesel prices fell in all regions, led by a 5.2-cent drop on the West Coast, excluding California. Prices in California remain the highest nationwide on average — and the only average price above $4 — at $4.047 a gallon. The Gulf Coast region has the nation's cheapest diesel on average at $3.757 a gallon.
Complete diesel price information is available on EIA's Website.