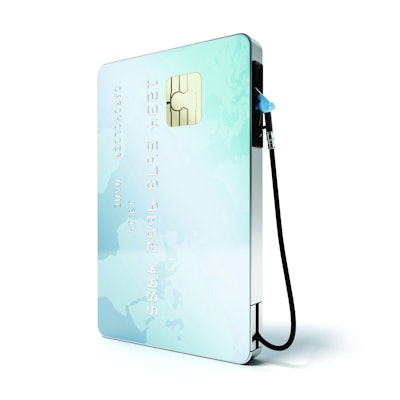 Fuel and corporate card programs are vital business tools. Using credit to delay payment of operating costs – especially fuel – accelerates cash flow, and the card controls help keep spending in line with the budget. Since fuel and corporate card programs are so common, it might be easy to overlook new opportunities to improve current practices.
Big Blue Trucking identified an opportunity to swap its credit with debit to save money while improving spending controls and administrative efficiency. The Warren, Ohio-based company operates 65 trucks and hauls general bulk commodities; it also operates a 10-truck company, Prop Logistics, which picks up crude oil from domestic oilfields.
Like most carriers, Big Blue issues fuel cards to drivers. Its fuel card program gives a discount on pump prices and limits the amount and locations of fuel purchases. The company also can issue payroll advances to drivers through the card.
The fuel card program is working fine, but Heather Best, Big Blue's controller, saw room for improvement in the company's corporate card program. When credit card statements came across her desk, they were filled with charges but no receipts.
Big Blue officials who were issued company cards often passed them around to different departments as needed. An officer might have let the maintenance department use a card to buy parts, or the IT department would use one to buy a laptop.
The credit card program generally lacked accountability, Best says. In some cases, the bank would cancel a card when it detected more than one person was signing for purchases. Cancellation would disrupt critical services – such as the company's E-ZPass account for toll roads – until the bank issued a new card.
A year ago, Big Blue decided to try a different approach by using a prepaid expense card program called PEX Card. Rather than use credit limits to manage corporate spending, the company establishes limits through a prepaid balance for each card – similar to how a debit card works.
Because each card has to have a prepaid balance, a conversation has to take place internally before employees and officers can use the card to make a purchase. With PEX Card, users also can set up automatic daily deposits to maintain a specified balance.
Big Blue gives PEX cards to mechanics, salespeople and other office employees. The balance on the cards is reset daily to between $100 and $250 depending on an employee's area of responsibility; if a larger purchase needs to be made, Best transfers the approved amount to the card. Larger amounts are sent through the company's purchase order system for approval.
Employees assigned a card still can make routine purchases without getting approval, but now they have to turn in receipts. The prepaid expense system has made everyone accountable for spending.
"Now we know who used (the card)," Best says. "If they don't turn in a receipt, the advance comes out of their paycheck."
Best manages the card service through both a website and a mobile app, which is convenient for adding money to an individual card if a purchase needs to be made during the weekend or after hours while she is out of the office.
The cost of the prepaid card program is a flat monthly rate that starts at $7.50 per card. If a business spends more than $50,000 per month, PEX Card waives the fee for all cards.
PEX Card is seeing some early success in the transportation industry, says Toffer Grant, chief executive. Any type of business that has a fleet can use PEX Card as either a primary or secondary card for ad-hoc purchases.
"It becomes one of two or three services that they seem to have," Grant says.