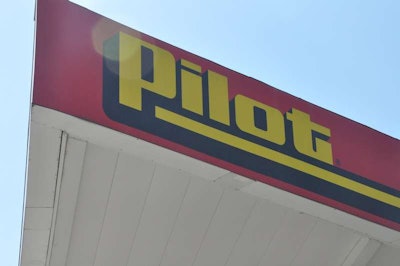 A New Hampshire owner-operator filed a lawsuit earlier this week against truck stop giant Pilot Flying J, saying he "suffered economic damages as a direct and proximate result of" Pilot's alleged rebate withholding scheme. He joins just a handful of other owner-operators who've sued the company, as the allegations against it accuse Pilot of withholding rebates from fleets, not owner-operators.
In an address to fleets May 16 in Indianapolis at the Scopelitis Transportation Seminar, Pilot CEO Jimmy Haslam said the company does not work directly with owner-operators on fuel contracts, and that fleets were responsible for doling out rebates to owner-operators once they received them from Pilot.
The latest class-action suit is being brought by Fred Woodward, a New Hampshire resident. He alleges that he did not receive proper rebates because of "Pilot's system-wide and uniformly implemented scheme to defraud."
He's suing over fraudulent concealment, conversion, racketeering and breach of contract, and he's seeking actual damages, punitive damages, interest, injunctive relief and attorney's fees. He's also seeking a jury trial.
Roughly a dozen fleets have sued the truck stop giant since April, and several owner-operators have joined. Woodward's lawsuit, like the others that have been filed, uses the aforementioned federal affidavit as evidence of its claims.
Click here to see the lawsuit document filed July 9.
Click here to see all of CCJ's coverage of the Pilot raid and subsequent developments.