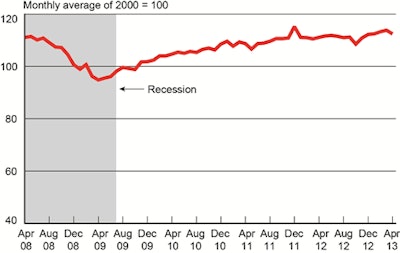 Driven by overall economic growth and a boost in housing starts in the month, the amount of freight moved by the for-hire transportation industry rose 1.2 percent in May from the previous month and was up 2.7 percent from the same month in 2012, according to the Department of Transportation's Bureau of Transportation Statistics' Freight Transportation Services Index.
Moreover, May's index reading was 20.6 percent higher than April 2009's low in the Great Recession.
Along with May's report, BTS downwardly revised the amount of freight carried in April, the only month this year in which the amount of freight carried by the transportation industry declined from the previous month.
BTS attributes May's increase to "broader signs of strength in the general economy" and a good month for housing starts, which grew 6.8 percent in May over April.
Year to date, shipments are up 1.7 percent over the same time period in 2012, and May's index reading was the highest so far in 2013. It is also the second highest all-time, bested only by December 2011's all-time high.
The DOT's index measures changes month to month in freight shipments by mode in tons and ton-miles, which combine to form the index. It includes data for trucking, rail, inland waterways, pipelines and air freight.