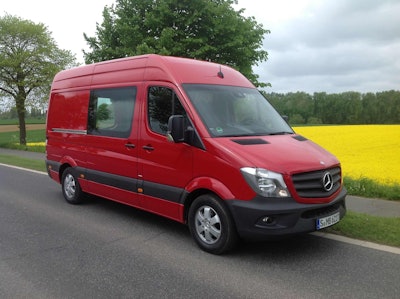 I'll admit that I was wrong way back in 2001 when Daimler announced it was bringing Freightliner-badged Sprinters into the U.S. My thought at the time was that the Sprinter was too "European" for American tastes.
Admittedly, it took Sprinter some time to find its legs in the States. But that wasn't the van's fault. It was, and remains, a remarkable, evolutionary step in vocational van design. But, as Daimler worked through its acquisition and eventual dissolution with Chrysler, Sprinters tended to get lost in the shuffle a bit. Sometimes they were Freightliners. Sometimes they were Dodges. And sometimes they sported the familiar Mercedes three-point star on their grills.
Today, it's clear Daimler understands they have a winning design in Sprinter — one that Americans have come to appreciate and depend on in a multitude of applications.
And while the third generation Sprinter launched this week in Dusseldorf, Germany, is not a massive redesign, it does have significant upgrades throughout, including a new front end that places the Sprinter firmly in the current Mercedes style template. Park a new Sprinter next to an E-Class Mercedes sedan and the family resemblance is unmistakable.
The latest generation Sprinter retains all the dimensions of the previous model. Most of the upgrades it received targeted the just-mentioned front-end as well as extensive powertrain upgrades, highly advanced vehicle safety systems and a new, four-cylinder, turbodiesel engine. As Claus Tritt, general manager of commerical vehicles for Mercedes-Benz notes, the new Sprinter is designed to be safer, more economical and environmentally friendly than ever before.
Perhaps the biggest news with this new Sprinter is the optional OM 651 four-cylinder diesel engine. Tritt says it is designed to provide fleets with excellent fuel economy will providing maximum torque at both low engine speeds and over a broad engine speed range.
A new, seven-speed automatic transmission is another feature that will find its way onto North American Sprinters this fall. The 7G-Tronic features a torque converter, which Tritt says makes Sprinter the only van on the globe to feature a fully-automatic seven-speed transmission. The transmission features a fast-acting ECO start/stop feature which will take Americans some time to get adjusted to: The engine shuts down completely at traffic stops, although interior systems such as the HVAC or radio continue to function seamlessly. The engine remains off, saving fuel, until the driver removes his foot from brake pedal, an action that immediately restarts it for a smooth transition back into driving mode.
Several new safety systems — both as standard and optional equipment — will find their way into Stateside Sprinters as well with this new model. A Crosswind Assist feature is particularly slick: It is a reactive braking system that responds to yaw input sensors on the van. If a crosswind hits the vehicle at highway speeds, the system immediately applies selective braking force to turn the vehicle into the wind (slightly) and prevent unwanted lane departures. I tested the system just today on a track outside of Aachen, Germany, and found it to be outstanding.
Other safety systems include a proactive Collision Avoidance system and a Lane Departure Assist system that alerts drivers when the vehicle starts to wander out of its lane.
The new Sprinter will begin appearing on both Freightliner and vocational-certified Mercedes-Benz dealerships on Sept. 1 of this year.