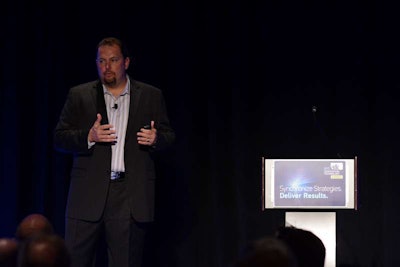 Motor carriers can no longer be in business just to move freight. Their services must start with freight management, said Derek Leathers, president and chief operating officer of Werner Enterprises, during the keynote address at the ALK Transportation Technology Summit, held in Princeton, N.J., May 15-16.
"This is how we believe and think the industry is headed," he said. "The world we live in today is much more designed around how do we move less freight and how do we do it more efficiently?"
Rail intermodal provides the biggest opportunity for motor carriers to offer cost savings to their customers. The predominant share of freight that moves by truck today (77 percent) is freight that cannot be converted to rail intermodal, he said. Freight that is still competitive for conversion from truck to rail and vice versa is about 8 percent.
"Our job as logistics providers is to look every single day for increased opportunities to save our customers money," he said. "Maximize the amount of conversion opportunities you can find."
Converting freight from truck to rail is not always an easy transition. Werner Enterprises is the third largest truckload carrier in the United States with 7,250 trucks.
"It was hard for us to wake up one day and say, 'my number one mission in life is to work with my customers to eliminate the need for trucks,'" he said. "The reason is that if we don't do it someone else will."
Intermodal is broader than converting truckloads to rail movements using trailer on flat car (TOFC) or container on flat car (COFC). Today's logistics providers have to look continuously for the best combination of ocean, rail and truck to lower costs for customers, he said. And large shippers will expect providers to offer global services.
"Customers expect to make one call to make all that happen," he said.
Another trend, and opportunity for logistics providers, is the increase in cross-border Mexican freight. Manufacturing activity is increasing as companies look for "near shoring" strategies to make their transportation costs more predictable and limit supply disruptions from port activities. Cross-border trade increased 22 percent in first quarter, he said.
Leathers predicted that freight demand (the ratio between freight volumes and truck capacity) will increase sharply in advance of Memorial day and the next six weeks. As an early indication, Werner has seen its "pre-book" percentages, a metric it uses to measure the tightness in its network, increase by 13 percent over the last five days.
Freight volumes typically increase in the Spring, but this year the uptick has been delayed due to an unusually cool April, he said. Compared to last year, temperatures in April were 7 degrees lower, on average.
Among publicly traded carriers, rates were up between 1.3 and 1.9 percent in the first quarter of 2013, but costs have risen by the same or more. Leathers predicts truckload rates will increase by 1.5 to 2 percent range for the rest of the year.
"The rate issue is going to be an ongoing struggle. I think the winners in the rate game are the ones that can offset costs with enough innovation," he said. "The secret sauce in all of that is that you simply have to find a way to move less loads."
Leathers also commented on the increasing costs of government regulations and flaws with the Compliance, Safety, Accountability program of the Federal Motor Carrier Safety Administration. One of the glaring flaws is a lack of due process for challenging speed warnings, particularly in Indiana, which issues 35 percent of all speed warnings nationwide.
"That's on my record and because it is a warning I can't fight it. Think about a world not where we could live, but where we do live, where there is no due process. We are already there," he says. "That is un-American and unacceptable."