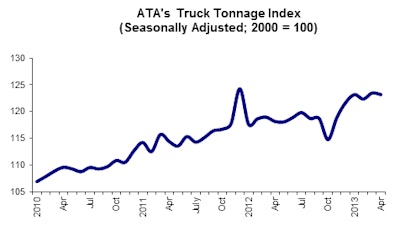 According to numbers reported this week in the American Trucking Associations' monthly For-Hire Truck Tonnage Index, April's index reading was 4.3 percent higher than the same month in 2012 — the largets year-over-year gain since January 2013's 4.7 percent difference.
Though down slightly from March's reading, the index still was up 4 percent year-to-date compared with the same point in 2012.
ATA Chief Economist Bob Costello says the month-over-month decline fit other trends and was in line with the slip in factory output and the drop in housing starts in the month.
"After rising significantly late last year and in January of this year, truck tonnage has been bouncing around a narrow, but elevated band over the last three months." he said. "It is also worth noting that the year-over-year comparisons are much better than expected just a few months ago and I'm hearing good comments about freight so far in May."
ATA calculates the monthly index by surveying its carrier members about the amount of tonnage it hauled in the month.