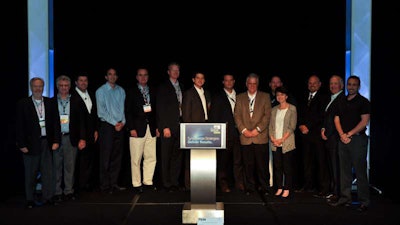 Integration and synchronization of technology were the prevailing themes at this year's ALK Transportation Technology Summit, held May 14-16 at the Hyatt Regency Hotel. Transportation, logistics and technology providers converged with shippers at the annual event to discuss industry trends, compare strategies and benchmark results. Attendance was up 14 percent from 2012,ALK said, and 30 technology providers and trade publications sponsored the forum.
Derek Leathers, president and chief operating officer of Werner Enterprises, returned for the second consecutive year as the keynote speaker to provide an executive analysis of industry trends in demand, supply, rates and costs.
Demand has increased slowly but steadily for the past 18 months and will increase significantly in the next 3 to 6 weeks, Leathers predicted, following a seasonal delay caused by an unusually cold Spring. Meanwhile, truck capacity will continue to shrink as fleets struggle to re-invest in new equipment. The average age of fleet trucks is currently 6.6 years. Overall, capacity is down 9.6 percent since 2008 and 17.6 percent from its high in 2006. On July 1, changes to the hours-of-service rules will further reduce capacity by the equivalent of 75,000 trucks from the road, he said.
Leathers predicted that truckload rates will increase between 1.5 and 2 percent in 2013 but the modest gains will be offset by rising costs of equipment, fuel, driver wages and compliance. Going forward, carriers will have to do more than move freight, he advised. For logistics providers their conversations with customers should begin with freight management and use technology and assets to optimize loads and modes (ocean, rail and truck) domestically and globally.
"The world we live in today is much more designed around how do we move less freight and how do we do it more efficiently," Leathers said. He advised carriers to maximize opportunities to convert truck shipments to rail, specifically using double-stacked container on flat car (COFC). "Our job as logistics providers is to look every single day for increased opportunities to save our customers money," he added. "If we don't, someone else will."
Presenter Brian McLaughlin, president of PeopleNet, noted the deeper level of convergence taking place among enterprise software, mobile systems and business analytics. Fleets are realizing higher value by taking back-office functions and delivering them in the cab to drivers.
Winnipeg-based petroleum hauler, Paul's Hauling, is using an integrated "journey management" system that ensures driver compliance to its carefully designed routes and operational procedures.
"We want to make sure that what the back office sees is what the driver sees. When two people have the same information it is easy for them to make decisions," said John Erik Albrechtsen, manager of operations. The company uses CoPilot Truck navigation system from ALK on PeopleNet's BLU computing platform.
Through the RouteSync capability, the onboard navigation is synchronized to its custom route settings in PC Miler and order information in the company's enterprise software from TMW Systems to deliver operational consistency in safety, billing and driver pay.
Norm Ellis, vice president, sales and marketing for Omnitracs, Inc., a Qualcomm company, discussed how various fleets have implemented CoPilot Truck on the company's Mobile Computing Platform. A one percent reduction in out-of-route miles pays for the system, he said, with benefits also including a reduction in driver training, distractions and accidents. Three customer case studies highlighted the numerous benefits including a 3.5 percent reduction in out-of-route mileage.
Curt Valkovic, director of driver training for Maverick Transportation, detailed his strategy of using a highly configurable, web-based learning management system (LMS) from EBE Technologies to improve the quality and reduce the cost of training. "The only way you are going to get better is if you have data," Valkovic said.
Lou Giardelli, executive vice president and chief information officer of New Century Transportation, Inc. showcased the company's new mobile platform that is comprised of an integrated suite of applications from Apacheta (proof of delivery), XRS (electronic logs and vehicle inspection reports), and ALK's CoPilot Truck turn-by-turn navigation running on Motorola MC65 devices. Drivers and dispatchers now have a single, integrated workflow. "We devised a system that all works together," he said. "The impact is going to be enormous."
Skybitz and Taylor Truck Line, Inc. presented the benefits of using cloud-based trailer management technology and back-office integration. Executives from LeanLogistics gave a blueprint for turning social network connections into transactions by building a digital army.
The ALK Transportation Technology Summit featured two panel presentations. A senior transportation and logistics executive panel featured Derek Leathers; and Terry Gilbert, CEO, New Century Transportation, Inc; Scott Jackson, transportation project manager, Caterpillar Logistics Services, Inc; and Tommy Barnes, president of Con-way Multimodal.
A wireless technologies panel included Jeff Sibio, director of industry marketing, transportation and logistics, Intermec Technologies; John Moscatelli, director, industry solutions practice, transportation/AVL, AT&T Mobility; Jay Delaney, manager, wireless technologies, Schneider National; and Ron Konezny, general manager, Trimble Transportation & Logistics. The ALK Transportation Technology Summit also included roundtable discussions which covered current issues for truckload, less-than-truckload, shipper, private fleet and 3PL operations, as well as global telematics.
For more information, visit: www.alk.com/techsummit.