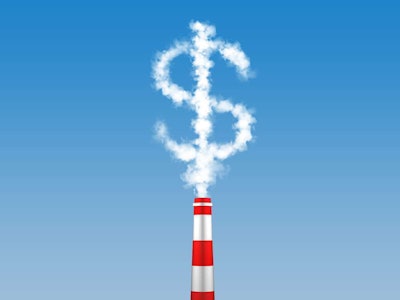 A report issued this week by the Congressional Budget Office says a carbon tax would cause industries that use much energy — like transportation — to "experience comparatively large losses in income" if a carbon tax were instituted spurred mostly by the decline in demand for trucking that would come from such a tax.
The report comes in response to a bill proposed in the Senate earlier this year that included such a tax proposal. Republicans mostly oppose the bill, but some Democrats do, too. The Congressional Budget Office is a nonpartisan organization and was requested by Rep, Henry Waxman (D-Calif.) to do the report.
The report does say that losses for "energy-intensive" industries like trucking could be offset in different ways, depending on how the revenue from the carbon tax is used.
The report says that if the revenue is used solely in an attempt to reduce the federal deficit, the carbon tax would initially harm the economy by increasing costs for consumers and in a regressive way, with lower-income individuals being affected more than others. It could be effective in reducing the deficit, though, which could produce more positive results in the long run for the economy.
If the revenue is used to lower marginal tax rates for personal and business income, the tax's effect would be a wash, mostly depending on the size of the loss of output caused by the tax and the gain in output caused by the lowering of marginal tax rates.
If the revenue is distributed to groups that are affected the most by the tax, the economic impact wouldn't really be minimized and the tax could actually encourage more use of fossil fuels, the report said.
Click here to download the report.