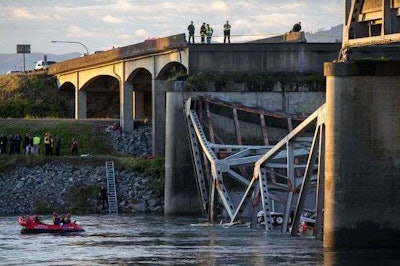 An Interstate 5 bridge was hit the evening of May 23 by an oversized truck in Skagit County in Washington state near Mount Vernon and, subsequently, a large piece of the bridge broke loose and fell into the Skagit River.
Washington Gov. Jay Inslee said the corridor is "totally disrupted" and there's no timeframe yet on when the bridge will be restored.
The state's Department of Transportation announced earlier today that both directions of I-5 are closed in Skagit County south of Burlington. Users there should expect delays, the WDOT says. Here are the alternate routes the department suggested via its Twitter feed:
Traffic heading south should take eastbound State Route 20, then go south on South Burlington Boulevard and west on East College Way (SR 538) to reconnect with I-5.
Traffic heading north should take eastbound East College Way to northbound Riverside Drive-South Burlington Boulevard, then west on George Hopper Road to I-5. Northbound traffic can also use State Route 9 by taking Exit 221 to SR 534 east to northbound SR 9 to westbound SR20 to I-5.
Here's the detour map issued by WDOT: