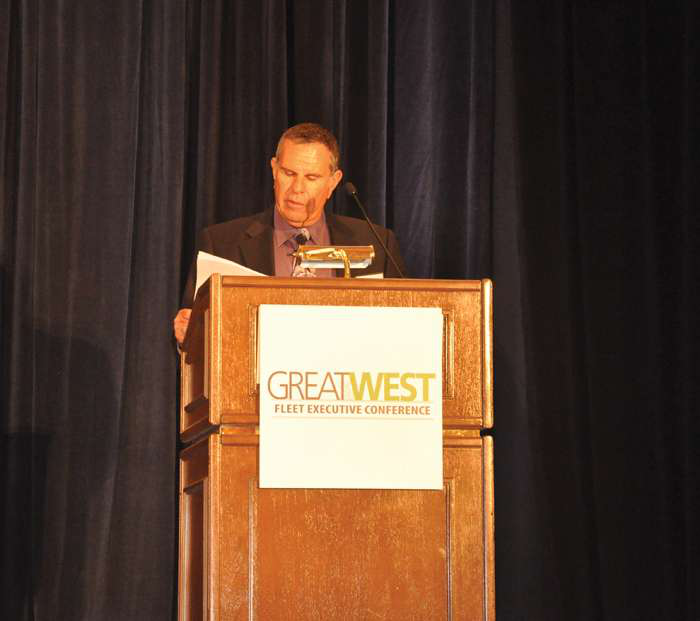 California "seems to be the breeder" of regulations, said Bob Massman, vice president of Dependable Highway Express and president of the California Trucking Association.
Speaking to attendees at the Great West Fleet Executive Conference in Las Vegas during a panel discussion Wednesday, Massman and others also addressed carriers' avoidance of the Golden State, the driver shortage, electronic onboard recorders and the new hours of service regulations.
California's reputation for being unfriendly to truckers — particularly when it comes to environmental regulations — has led many carriers to refuse doing business there altogether, according to research presented by Avery Vise, Randall-Reilly's executive director, research and analysis, who moderated the panel.
Of carriers who avoid California, 22 percent said California Air Resources Board regulations are the principal reason, Vise said. Another 24 percent said CARB is a contributing factor.
Massman, whose company provides truckload, LTL, drayage, and other services out of Los Angeles, has invested more than $15 million in equipment over the last two years to ensure CARB compliance. As CTA president, he's met with many 5-10-truck carriers who have also made the investment.
"Their biggest concern is they drive down the street and their competitors haven't" remained compliant, he said. The compliant carriers lose business to carriers who can charge lower rates because they haven't made the investments to play by the rules. "A lot of guys will just get out of the business."
California regulations affect carriers outside of its borders, as well, said panelist Mike Card, president of Combined Transport and chairman of the American Trucking Associations. His Central Point, Ore.-based company "is influenced a lot by what happens in California," he said.
For example, his company "lost an entire market" because it can no longer sell its used 4-year-old trucks in California.
Card also pointed to the changes at California ports that have made it increasingly difficult to do business there. "The Port of LA is a public port," he said. "We should have access to it."
He points to efforts by ports to curb use of independent contractors, charge for or limit parking and tack on additional fees.
"The ATA court case is about not having our right to use the ports taken away," he said, referring to the case ATA brought before the U.S. Supreme Court that federal law pre-empts Port of Los Angeles trucking requirements.
Turning to the driver shortage, the panel discussed Vise's research that showed finding drivers has been fleets' main concern for the last two years.
"The trick about keeping drivers is you have to do it all," Card said, listing high-quality trucks, good pay and respect. Card's company runs 433 trucks in flatbed and heavy haul and has 34 percent turnover. He credits the accomplishment to the policy of only hiring drivers with at least three years experience. Card also predicted that pay rates will be going up soon.
Massman agreed on pay increases and mentioned other incentives, such as a driver of the month program his company participates in through CTA. "They bring their wives to the function, get up on stage and you can see the glow in their eyes of being noted as a professional in what they do," he said. "It's not always about the money."
Massman said he sees the federal Compliance, Safety, Accountability program as a positive in hiring drivers. "We're scrutinizing the drivers more — getting the bad players out," he said. "We're self-insured and we're a lot more selective. His company requires a minimum of two years of experience. "That's where we'll see the value of the driver going up and the pay as well," he said.
Card also sees CSA as a positive. "What we have seen is drivers are very concerned about their scores," he said. "Our drivers really care about their maintenance, their hours of service."
The new hours of service rule, whose enforcement starts July 1, will have a significant impact, the panelists said. "Sixty percent of our drivers use the 34-hour restart," Card said. "We see it really affecting our driving and home time." Card estimates the new rule's effect on his drivers' productivity will exceed the 4 percent cited by many industry experts.
Massman said the new rule will push more traffic onto the highways during high-volume hours. "Even though we have clean-burning trucks, they are going to be in traffic, idling," he said.
The big game-changer, both agreed, will be electronic onboard recorders. Smaller carriers will struggle with implementation, Card said: "You need a tech guy, another driver trainer — it's expensive."
Massman pointed to the issue of highway funding as a major problem for trucking. "We're billions in shortfall," he said. Card pointed to ATA's efforts to push for a fuel tax increase. "The Republicans are stopping all taxes, but it's wrong," he said. "Our industry needs this."