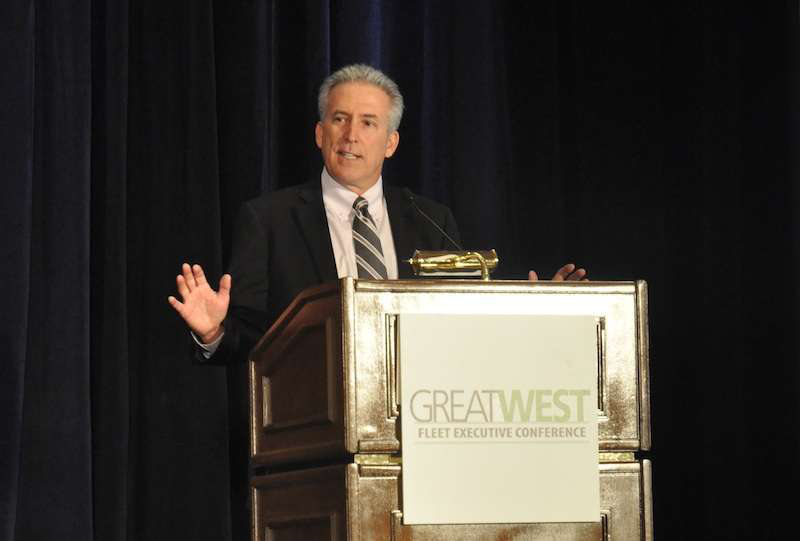 American Trucking Associations Chairman and Combined Transport President Mike Card delivered a simple — though slightly dire — message to attendees of the Great West Fleet Executive Conference Thursday, May 30: Smaller carriers can't handle the increased costs of industry regulations and can't hold their heads above water any longer.
Many of these smaller carriers are owned and operated by what Card calls "the first generation," as they got their starts after deregulation in the late 1970s and early 1980s, a time when doors opened for owner-operators and small fleets to emerge.
This generation, however, "will see no baby boom," Card said, as reregulation has given them basically only three options for leaving the industry, "merger, sale or death," Card said.
"Trucking has been consolidated," he said. "The primary reason for consolidation in the trucking industry is the costs associated with increased regulation. We're the most over reregulated industry out there, in my opinion," Card said, referencing multiple hours-of-service changes, CSA, drug testing implementation, upcoming electronic onboard recorder requirements and a litany of equipment mandates like emissions standards, anti-lock brakes, fuel standards and more.
Since deregulation, the industry's also seen the institution of heavy vehicle use taxes, excise taxes and the creation of the Federal Motor Carrier Safety Administration, Card said.
"They're all great regulations, but almost all of them have raised the cost of owning a trucking company," Card said.
In today's climate, he added, fleet age or owner experience carries hardly any weight compared to fleet size. "It doesn't matter how old you are," he said. "It matters how big you are. If you're not big enough and profitable enough to handle the additional cost of regulation, you're going to struggle to survive."
Card said a major issue with dealing with the over regulation is that carriers and ATA can't deal directly with Congress. They instead are dealing with federal bureaucrats from an agency. "Congress has given up their responsibility to legislate this country to regulators," Card said.
Now, trucking is "at the whim" of the Federal Motor Carrier Safety Administration, which, unlike agencies that oversee other modes of freight transportation, does not advocate for the industry.
"Why do we have FMCSA? Why not FMCA?" Card asked. "Railroads have the Federal Railroad Administration. Ocean carriers have the Federal Maritime Commission. Why is it that the largest freight mode hauling over 70 percent of freight doesn't have a federal bureaucratic administration to propagate our industry? Why don't we have an administration to help us?"
Card blames Congress, and he also blames them for the country's lack of "adequate infrastructure," as ATA and the trucking industry have asked for Congress to increase fuel taxes to pay for better highways, Card said.
"We said 'Do it, and give us the roads we need,'" Card said. "But they won't because they're afraid they won't get reelected" if they raise taxes, he said.
Because of the issues with Congress, FMCSA and increasing regulations, Card says the industry will continue to consolidate and one day might be like the airline industry, in which customers have only four or five companies to choose from, and they simply go online and book one.
"Unless we get Congress to act, our industry is only going to be made up of the biggest trucking companies," Card says "And those companies will be under attack constantly from [federal regulations]."
Card offered as an example of Congress yielding power to regulators ATA's current fight with FMCSA over hours-of-service implementation — a rule Card says will have "very little safety benefit" but will cost the industry lots of money. "At ATA we worked hard and got Congressmen to write a letter to FMCSA asking for a delay. FMCSA said no."
In years past, Congress "wouldn't have stood for that," Card says, and would have passed a law to get done what they wanted, which in this case is a delay in implementation of the rule.
Toward the end of his address, Card posed the question: "What can we do to keep common sense in the trucking industry?"
His suggestion, he says, starts with recreating trucking's image in the minds of the public and moves to taking action by influencing Congress and state legislatures.
As far as image is concerned, "We cannot be Smokey and the Bandit," Card says. "We need to get back to being knights of the road. Our drivers should be wearing uniforms and be driving clean and safe trucks. We need to get the public to trust in us again."
The industry needs to make use of social media, YouTube, earned media and purchased media to remake its image, Card says, and to educate the public about trucking.
That education needs to extend to Congress, too, to influence a better regulatory environment. ATA has reached out to other trucking-related associations like the Truckload Carriers Association, the Owner-Operator Independent Drivers Association, the Teamsters, FMCSA and others "trying to make this a collaborative effort," Card said.
"Working together we can make a difference and influence government in such a way that we bring common sense back to trucking," Card said. "We're either going to lose our first generation, small carriers and owner-operators or make Congress step up and listen."
"That's how we're going to make the trucking industry strong," he said, "and that's how we're going to make the country strong."