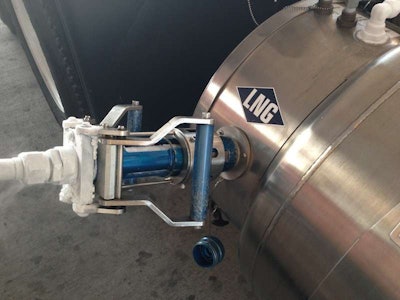 What's the right natural gas option for your fleet: Compressed or liquefied?
At this point, it's pretty well established that long haul, cross-country, over-the-road applications are well suited for LNG. Regional applications seem to be more well suited for CNG.
Those are really only two general themes, however, of any conversion from diesel to natural gas, and — as detailed by CCJ Equipment Editor Jack Roberts in his Natural Gas 101 series — many fleets don't want to make the wrong choice between LNG and CNG, regarding which one has staying power in the marketplace.
A webinar held this week, however, delved into the subject, too. CCJ sister site Hard Working Trucks' Editor Jason Cannon has a in-depth write-up on HWT, but some interesting notes from the story include the fact that, even though LNG is better for long-haul, its not as widely available as CNG, therefore requiring fleets to potentially invest gobs of money into building their own stations.
Moreover, LNG's high production cost, compared to CNG, has hindered its commercial use, as has its storage needs: Expensive cryogenic tanks.
CNG is also a tad cheaper than LNG when compared to diesel, running about $2.34 per diesel gallon equivalent. LNG costs about $2.45 per diesel gallon equivalent.
The article also says LNG is the better option for trucks that mostly run trips of more than 250 miles or for trucks that operate five to seven days per week. CNG shelf life, however, is better than LNG's, as the latter builds up pressure in the tanks and pushes fuel out of vents.
Click here to read the whole article on the webinar, which breaks down comparisons and choosing between CNG and LNG.