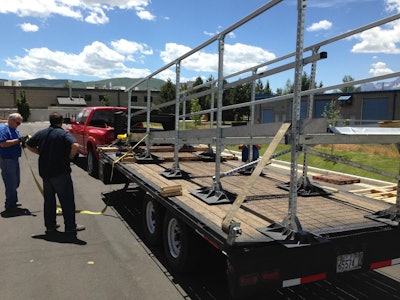 As editors, we regularly get opportunities to test new products. For instance, my colleague Jack Roberts travels to locations across the United States and even Europe to test-drive models from Freightliner, Paccar and other truck manufacturers.
I mostly write about technology so, by comparison, my testing opportunities are simpler and, might I add, less risky than commandeering an 18-wheeler down a steep mountain pass. By the way, I've tried that before and it was not pretty.
Occasionally I get offers to test software systems like asset tracking or truck-specific navigation. The drawback of testing these products is that I never have skin in the game. I do not run a business and therefore do not have real transactions to test how the software works when customers are calling me about the status of their loads or a driver is upset about his paycheck.
All of this changed recently. I had skin in the game when testing a product. It all started about two weeks ago when my brother told me about a load he might be able to get. He had negotiated a rate for $1,700 from Utah to San Francisco. Not bad!
My brother is an engineer and knew a company that had an urgent need to get a ramp to a contractor in San Francisco the morning of Thursday, June 27. This is what they call a "hot shot" load. He knew just the man to do it: my father.
My dad is a retired fleet owner and truck driver. He drives a Cummins-powered pickup truck. My brother was able to borrow a flatbed trailer with a gooseneck fifth-wheel attachment for him to use.
Intrigued, I decided to get involved in this family affair. After all, if nothing else, it would give me an opportunity to try out uShip to find a backhaul from San Francisco to Salt Lake City, Utah.
After contacting uShip about the possibility of doing a real-world product review, I received a call from Anne in their carrier development department. She politely helped me set up an account and guided me through the process of creating a profile for our business. She saved a load search for me between S.F. and SLC. From then on, she explained, I would be receiving a daily e-mail of search results.
Being a first-time user was a disadvantage but you have to start somewhere. The uShip service has a ratings system that works similar to eBay. Would a shipper trust someone with no track record on uShip to haul their cargo? I would soon find out.
I limited my bids to motorcycles and cars moving East between S.F. and SLC. Other loads along this route, like household goods and less-than-truckload shipments in general, were local movements. After several rounds of lowering my bid, I convinced a shipper to let me transport a 2000 Subaru Legacy.
One of the ways that uShip is unique is that all of the communication with the shipper during the bid process is public. Me along with other carriers (most everyone else was a broker) asked shippers questions to try and build trust during the bid process. uShip does not allow the shipper or carriers to send private messages. And those that try to include contact information in the public form can be flagged for a violation and possibly lose their account.
When the bid ended the customer accepted my low offer of $450. Once the offer was accepted, uShip provided the full contact information of the shipper. I called my new customer to work through all of the details.
Another way that uShip is unique is that users do not pay a monthly subscription fee like they would with a load board. The carrier is charged a service fee only when the shipper accepts the bid and pre-pays for the shipment. The fee was a flat 15 percent for all of the bids I submitted between $200 and $800. The amount is included in the bid amount the shipper sees.
Personally, I didn't mind the service fee since there is no other service like uShip where I could secure a load on such a short notice. However, I wondered how other carriers and especially how brokers that use the site regularly make a profit on shipments? I found that car hauling is very competitive. My gross proceeds came to $380 for hauling a car from S.F. to SLC. That's barely over $0.50 per mile.
I would assume that a lot of the carriers and brokers that use uShip are not just looking for a single shipment, as I was, but rather to fill remaining space in a trailer.
The website is very simple to operate. A simple dashboard has all the functions you need to find, bid, book and get paid for shipments. If you've ever used eBay, then using uShip is second nature. Combined with the personalized assistance, help and encouragement from Anne, my overall experience in using the technology was excellent.
To make a long story short, my dad successfully delivered the car this morning at 12:10 AM. The shipper met him outside her house when he arrived. She signed a bill of lading and gave him a code. This morning I entered the code into uShip's "payment" center and will receive the funds, $380, directly in my bank account within one to four business days.
I'll probably end up giving most, if not all, of the $380 to my dad. After all, he had to buy the fuel and drive for 13 hours straight to make the delivery appointment I set. All I did was write this article and handle the logistics. The trucker deserves all the credit, but none of it would have been possible without uShip.