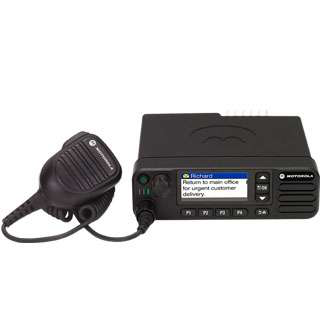 Judging by today's standards, two-way radios may seem outdated. With 4G cellular networks, smart phones, and an unlimited supply of apps in Google Play and the App Store for personal and business use, why should it matter that radios once dominated transportation on the surface of the Earth and the Moon?
In 1969, Neil Armstrong spoke the famous words "one small step for man, one giant leap for mankind" from the Moon on a Motorola transceiver. Meanwhile, thousands of drivers were already being dispatched on Earth using the same technology.
When cellular networks began to emerge in the 1990s, fleets were not easily swayed from two-way radios they had grown to trust for immediate, push-to-talk (PTT) communication with drivers.
For this reason, Nextel quickly became a happy medium for the transportation industry. Its nationwide "push-to-talk" (PTT) and cellular service, delivered through Motorola's iDEN network, bridged the past and the future. Trucking companies that ditched their radios in favor of Nextel devices gained the benefits of cellular networks to run their fleet management applications while keeping in touch with drivers through PTT.
Sprint purchased Nextel in 2005 and discontinued the use of the iDEN network this year. That decision would free up bandwidth to grow its 3G and 4G offerings. Sprint, along with all other major cellular networks, continue to offer nationwide PTT services. But rather than using analog radio for transmission, carrier networks offer PTT as an IP-based feature.
What then has become of the iDEN network and two-way radios in the transportation industry? They still exist and, believe it or not, they are doing quite well.
Since Sprint has discontinued the Nextel network, a lot of carriers have come back to Motorola to implement two-way radios, says John Jaderholm, vice president of Motorola Solutions. In January, 2011, Motorola split into two companies. Motorola Solutions is focused on radios and commercial applications. Motorola Mobility is the mobile handset producer.
Radios have gone through a lot of changes in the interim. They now use the latest digital technology, making the audio very clear. Fleets can also integrate voice and data. Rather than respond by voice, drivers and fleet dispatchers can use short text messages. GPS capability is also built into radios for tracking location, speeds and finding the closest available vehicle.
The latest hardware is also very slim and sleek and can be mounted in the truck. With truck-mounted radios, fleets do not have to worry about drivers dropping a mobile device. Also, the distracted driving laws that apply to cell phones do not apply to two-way radios, he says.
Motorola offers a specialized line of two-way digital radio products for business use called Mototrbo (pronounced "moto turbo"). The products can be deployed in one of two ways for fleets that have local and regional operations.
One option is to purchase your own private radio system. Once the initial investment is made for a radio frequency and hardware, there are no ongoing monthly fees. The more popular option is to use Mototrbo products and services from commercial providers. In this arrangement, fleets pay a small, flat monthly fee for unlimited use of radio towers and infrastructure.
Mototrbo's truck-mounted radios cost between $300 and $500 each. The mobile "walkie talkie" devices cost up to $550 each. Commercial providers typically offer airtime for about $20 per unit, per month. Many also offer a bundled service for hardware and air time for about $40 per month, he says.
Over 400 commercial providers offer Mototrbo products and services for a flat monthly fee and over 65,000 radios are on these networks today, he says. Several hundred software applications such as for tracking, routing and work order management are compatible with Mototrbo.
"We're coming back to two-way radio. We've always been here," Jaderholm says.