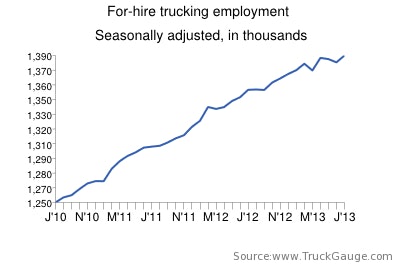 The for-hire trucking industry started hiring again in July, adding 6,300 net payroll jobs, according to preliminary estimates released by the U.S. Bureau of Labor Statistics. In addition, the 3,500-job reduction originally reported for June was revised downward to a 3,000-job cut from May.
The U.S. economy continued to add net new jobs, although the growth was weaker than in recent months, according to preliminary BLS figures. Total nonfarm payroll employment increased by 162,000 jobs in July, the lowest month-over-month increase since March. Also, the job gains originally reported for May and June were revised slightly downward. The unemployment rate dropped two-tenths of a point to 7.4%. That's the lowest unemployment rate since December 2008, but the rate is not dropping very quickly. The rate has been stuck between 7.4% and 7.9% for a year.
The 1.3878 million payroll jobs in for-hire trucking is up by 31,600 jobs, or 2.3%, from July 2012. Trucking employment is up by 153,800, or 12.5%, from the bottom in March 2010, but it remains 65,600 jobs, or 4.5%, below the peak in January 2007.
The BLS numbers for trucking reflect all payroll employment in for-hire trucking, but they don't include trucking-related jobs in other industries, such as a truck driver for a private fleet. Nor do the numbers reflect the total amount of hiring since they only reflect the number of employees paid during a specified payroll period during the month. Due to high turnover rates, the BLS estimates may overstate the number of job positions due to the methodology used in the agency's Current Employment Survey.