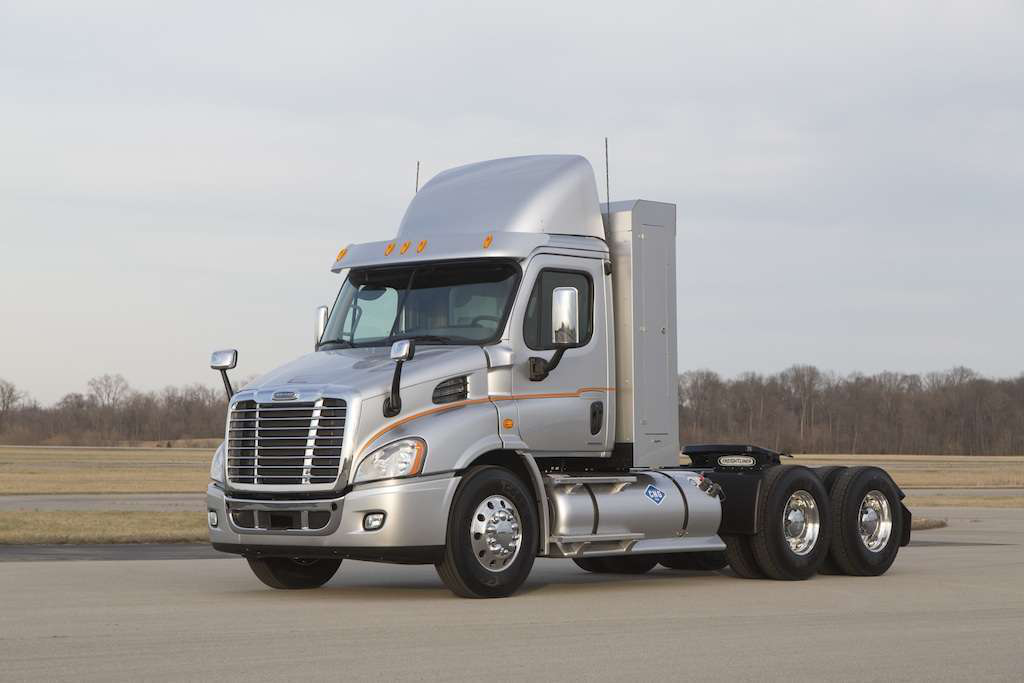 The natural gas-powered Freightliner Cascadia will soon be available in a 48-inch sleeper cab option, the truck maker announced this week. The tractor will be available with either compressed natural gas or liquified natural gas tanks and will be equipped with the Cummins Westport ISX12 G heavy-duty natural gas engine, with ratings up to 400hp and 1,450 lb-ft torque.
Several fuel tank options are available, Freightliner says: Up to 190 diesel gallon equivalent (DGE) capacity for CNG, and up to 300 gallon (140 DGE) capacity LNG, with an anticipated fill-range of more than 800 miles.
"Having factory-installed fuel tanks gives customers the advantage of having a fully turn-key factory-built natural gas truck solution, with the Freightliner Trucks factory warranty," says Freightliner's announcement.
"We have proven that natural gas can be a smart alternative to diesel for over-the-road applications, and our new Cascadia sleeper natural gas offering will give our customers a new opportunity to experience the savings and sustainability provided by alternative fuel solutions," said Robert Carrick, sales manager – natural gas for Freightliner Trucks. "The addition of the sleeper further solidifies our place as the leader in providing the industry's most comprehensive range of factory-built natural gas-powered vehicles."
The Cascadia natural gas tractor has a spacious cab, Freightliner says, with ergonomic features that accommodate drivers of all sizes. And, starting spring 2013, the Cascadia CNG day cab will offer aerodynamic features like that found on the Cascadia Evolution.
Pre-series production on the Cascadia CNG sleeper will start Q4 2013, with full production launching in Q1 2014. Factory-installed tanks will be available on the Cascadia 113-inch BBC CNG tractor in Q1 2014.