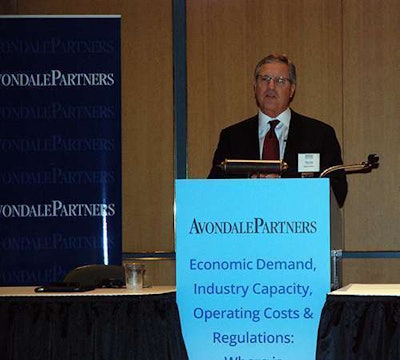 As the 1990s ended, Little Rock, Ark.-based Maverick Transportation was almost completely dependent on the steel industry. Following the recession in 2001, the flatbed carrier recognized the dangers of relying on a single commodity, says Stephen Selig, Maverick's president and chief operating officer. Speaking at the Avondale Partners Trucking Forum in Dallas, Selig says that first Maverick diversified into building materials.
Then came 2008 and the bursting of the housing bubble. But fortunately Maverick had continued to diversify and continues to do so, first by acquiring the assets of Schneider Specialized to haul glass and then by entering the temperature-controlled segment. With the economy and the housing construction market recovering, Maverick is projecting $313 million in revenue, topping for the first time its 2008 revenue. And the company expects to do it with about 100 fewer tractors than it had in 2008. Meanwhile, Maverick's exposure to steel is down to 50 percent of its business, Selig says. "We aren't sure how much we want to grow our flatbed fleet — especially our over-the-road flatbed fleet."
Maverick manages its equipment investments very carefully, taking into account business conditions and opportunities, driver availability, taxes and the whole range of cost factors, including price, cost of money, operations and residual value, Selig says. As Maverick has seen, there are freight opportunities even in a weak economy. Based on all the cost factors, Maverick typically turns its trucks at 48 months. The fleet's average age is 20 months. To reduce operating costs, the company is now buying trucks with 13-liter engine rather than 15-liter engines.
Driver supply is critical; if Maverick projects that it won't be able to fill trucks in a given timeframe it looks to dispose of them. "A bad week in recruiting or a bad week in retention, and you can find yourself with empty trucks in a hurry," Selig says. Maverick's overall turnover rate is 68 percent — a figure that drops to 46 percent in its dedicated operation. Meanwhile, recruiting and training costs have risen significantly, Selig says. The cost per hire in 2013 is $8,369; in 2009, it was $5,114.
While clearly a significant part of that increase is the higher demand for drivers, training costs have risen, too, Selig says. In fact, Maverick's recruiting staff is still smaller today than it was in 2008 while the company has increased the number of driver instructors to 116. Plus, there's the financial side of training drivers in terms of giving drivers supplemental income to get them through the first 180 days.
Maverick's investment decision making in technology as opposed to equipment is not quite so precise, Selig says. Indeed, the company is one of the most extensive adopters of safety technology, such as collision avoidance, roll stability and predictive analytics. While it's quite likely those investments pay off financially, it's hard to identify the accidents that didn't happen. The commitment to those technologies is based more on a fundamental belief that it is the right thing to do, he says.
Other technology investments include in-cab information and training, electronic logs and business intelligence. In-cab technology helps in recruiting drivers under 35. "And when you are hiring about 80 percent of your drivers with no experience, safety technology is going to make that work."