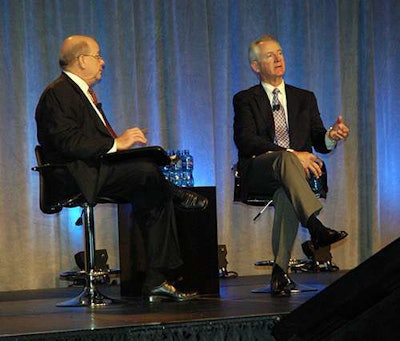 The trucking industry faces a number of headwinds in the near future, said Gov. Bill Graves, president and chief executive officer of the American Trucking Associations, speaking at the 2013 Commercial Vehicle Outlook Conference in Dallas.
The driver shortage, while not as severe as initially predicted, will be a growing concern in the years to come, with a projected shortfall of 239,000 drivers by 2022.
"This is a very real problem," Graves said last week. "We are going to have more freight to move as the economy grows and we will need more trucks and drivers. While the driver issue, while it may not feel very significant to you today, trust me it is going to get there eventually."
According to the ATA Benchmarking Guide for Driver Recruitment and Retention, the industry will need an average of 96,178 drivers per year over the next 10 years. The report says 37 percent of that need is driven by retirement of aging drivers, 36 percent will be attributable to industry growth and 11 percent from drivers leaving the industry for other job opportunities. The remaining 16 percent will be driven by non-voluntary departures as bad actors are chased from the industry.
"We are going to see that slice of this pie grow larger and larger as we get more immersed in CSA and all the other regulations that are going to govern the performance, health and overall capabilities of our drivers," said Graves.
Driver compensation will be a key factor in addressing the driver shortage issue. As driver pay increases, those added costs will have to be passed through the shipping community.
Graves also noted the trend in shorter lengths of haul will continue. "The average length of haul for freight is declining, and it has a lot to do with the way we are building out this nation," he said. "There is less need to make real long hauls across the country because we have more manufacturing plants, distribution centers and customers located closer to one another as cities grow."
Surface transportation continues to be ATA's no.1 priority as the association continues to advocate for an increase in fuel tax.
"We understand there are other options available like tolling and public-private partnerships, and those things play a part to help solve the infrastructure dilemma, but none of them come close to scratch the surface of tried-and-true fuel tax user support for infrastructure."
On the subject of truck productivity, Graves said he doesn't expect to see significant changes on truck size and weight, but noted some hope for an proposal for twin 33-foot pup trailers as part of a push by FedEx and other less-than-truckload carriers.
"Congress is going to have to understand that they will have to deal with truck productivity, otherwise we are going to add proportionally even more trucks to the nation's highways than we otherwise would." Graves said the twin 33-foot proposal has the greatest chance of approval, while 97,000-pound/six-axle and 88,000-pound/five-axle hopes will have to wait for a later date.