When looking at Jim Bramlett's 36-year career in transportation you see how the landscape has changed for the trucking industry, particularly in the less-than-truckload sector.
He began working for an asset carrier, Yellow Freight System, and later moved over to the non-asset side with Yellow Logistics Services. Later, he worked for software companies to help shippers lower their costs.
In these various roles, he's been part of the movement by third party logistics firms and technology providers to manage freight that used to flow directly between shippers and carriers. This shift accelerated rapidly starting in the late 1990s when the Internet spawned new opportunities for 3pls and brokers to get in the middle.
Today, it's common for LTL carriers to have between 25 and 50 percent of their revenues coming from 3pls. This trend is not altogether negative as carriers stand to benefit from increased visibility to freight to fill their trailers.
But for the past two-and-a-half years, Bramlett has been searching for a way to restore the balance. His idea is to create an online marketplace where carriers can list their rates and shippers can book loads directly.
His approach is different than the standard online freight market or "load board" where shippers and 3pls post freight to find equipment and then negotiate a rate with carriers offline. Some markets include rate negotiations online with a reverse bid or auction process to foster competition among carriers.
The reality is that most shippers in the LTL sector do not have time to wait for these processes to unfold. They have freight that needs to move now. Unless a shipper already has contracts with carriers or 3pls to move its loads, it needs to make a decision by knowing what capacity is available right now and at what price, he says.
Bramlett's research led him to join uShip, noting that the company's platform was well suited to make the concept reality. In May he became general manager of LTL Freight for uShip where he leads strategy development, deployment and sales initiatives to connect LTL carriers directly with shippers.
"Nobody else is doing that today," he says.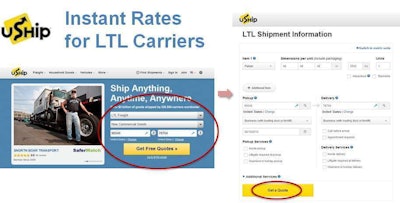 Going Pro
uShip will be releasing a new service called "Instant Rates" for LTL carriers. The service will be limited to carriers and shippers that use uShip Pro, the company's platform for repeat business-to-business customers. The original uShip platform is designed for consumers to find transportation for personal items such as boats, cars, motorcycles and household goods. Currently about 35 percent of the shipping volume going through uShip is B2B.
Bramlett says the "sweet spot" for uShip's new Instant Rates for LTL Carriers will be small-to-midsize shippers that do not already have LTL contracts in place. Exposing instant rates from carriers to these shippers will enable them to execute transactions with carriers directly.
The uShip Pro platform is designed to facilitate fast commerce for shippers and 3pls. They can choose a price from a published list of carrier rates rather than go through the auction process. However, if shippers don't like the public LTL rates in the system they can always use uShip's auction.
LTL carriers that use the new service can publish their market-based rates for shippers. Their rates can be both static or dynamic based on seasonal and other factors. As part of the rating process, carriers can also select the type of freight they want and various conditions for loading and unloading (forklift, dock, etc.) to ensure that they rates they expose match the reality of the shipment.
"This is a breath of fresh air for carriers," he says. "Carriers are excited because they view this as way to control their own destiny by getting the price they more or less need in a more dynamic fashion."
When listing freight, shippers must provide accurate dimensions, weights and other details. uShip converts dimensions and weights to density rather than use the more complicated commodity classifications still common in the LTL world, Bramlett says.
The uShip Pro platform is like a "light" version of a TMS for shippers. Shippers can integrate orders from their ERP systems into uShip Pro to streamline the process of finding carriers to haul their freight. The platform can also integrate with carriers' back-office systems to extract rates from rating engines based on the specific parameters for each load.
As part of the rollout of the new LTL service, uShip conducted a beta test with R&L Carriers and is currently testing the service with five more carriers. The company plans to aggressively launch its new LTL service in September. It also plans to apply the same concept to the truckload space, Bramlett says.
Last year, uShip had $100M of volume transacted on its marketplace, which represents the total sales by transporters on the site. As a company, uShip has 200 employees. For a full description of how uShip works, at least for the consumer side, read this first-hand user experience by a CCJ editor.