Though the U.S. economy remains slow, Americans need not worry about another dip into recession anytime soon. That's the cautiously optimistic forecast economist Jeff Rosensweig passed along in the final session the 2013 Commercial Vehicle Outlook Conference in Dallas.
Even as Europe struggles and the boom in China slows, robust growth in emerging markets will be enough to sustain global trade—to the benefit of the American economy.
Still, "these are just not very exciting times," says Rosensweig, director of Emory University's Global Perspectives Program. "I don't want you to plan your business as if we're going back to that 5 percent growth from the Reagan years."
Much of his forecast hinges on trade among the nations of North America. Mexico's economy is growing very well and is positioned to take advantage of "near-sourcing" as jobs are moved back from China. Canada, likewise, is positioned for long-term stability based on the country's energy reserves and other resources.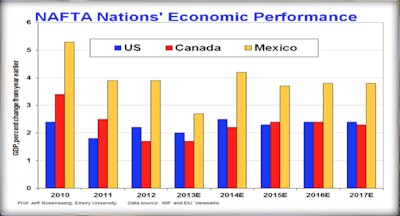 "We export more to Mexico than we do to the 18 countries that use the Euro," he says. "And we export more to Canada than we do to Mexico."
Consequently, Rosensweig encouraged truckers to look to "north-south" trading lanes for freight moves.
"If you can figure out how to grow your business along that axis, I think that will be a really good opportunity," he says.
U.S. stock markets have already recovered nicely from the recession, and the manufacturing sector is also trending upward—a good indicator of the direction of the broader economy.
The U.S. also has an advantage over other advanced economies because of continued population growth, both from a higher birth rate than in Europe and through immigration—and that means a larger labor force.
"Never count the U.S. out," Rosensweig says.
The challenge, however, will be "to find ways to keep working" up to age 70, which will be the age necessary to protect Social Security.
For the other end of the age curve, the professor—who earned his PhD from the Massachusetts Institute of Technology—cautioned that a child's education, in a global economy, will be the difference between living in "a wonderful world or a terrible world."
"Make sure they study a lot of math," he says. "Do not give your kids a choice. Math is often the big differentiator. Who is going to keep their job? Who is going to be automated away? They have to have these technical skills."