In the early 1990s, Jarret Hamstreet started working at his father's trucking company as a child. As a teenager in the mid-to-late 90s, he took note of a novelty in the office: Internet-based load boards. Suddenly, small companies like his had access to a nationwide network of freight.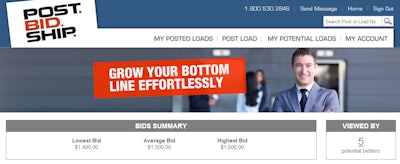 He continued working for the family business through high school and college. His father sold the business but Jarret's interest in transportation resurfaced during his MBA program at the University of Arizona in 2008.
As part of the MBA program he had to create a business plan for a class project. He decided to research online load boards. Hamstreet, now 32, saw that the basic structure has stayed the same. Most sites still use static postings of loads and trucks and rate negotiations take place offline through phone calls.
He devised a business plan for a load board that would have a dynamic auction environment to return real-time bids from carriers to the brokers and shippers posting freight. The business model would be similar to e-Bay or Priceline to sell transportation capacity at today's rates.
The business plan received top honors in the MBA program. Three days after graduating in 2010, Hamstreet and classmate Micky Thompson decided to launch the new venture called Post.Bid.Ship.
The two classmates funded the business themselves during 2010 while they built a prototype. They soon began raising money from friends, family and angel investors in Arizona. The dean of the business college was among the early investors and was the one who introduced Hamstreet to Herb Schmidt.
At the time, Schmidt was president of Con-way Truckload based in Joplin, Mo. He became an early mentor for the new business venture. Before then he was chief executive officer of Contract Freightors, Inc. (CFI) until the company was acquired by Con-way in 2007. Schmidt retired from Con-way in 2012.
Schmidt officially joined the board of directors of Post.Bid.Ship in March, 2014. When he learned about the new company from Hamstreet in 2010, Schmidt said he wished the business had been around when CFI was operating between 400 and 500 trucks. The company's biggest hurdle at this time was utilization of assets.
With a tool like Post.Bid.Ship, CFI could have bid on more freight from its major customers and then auctioned off excess freight to its customers' core carriers in a real-time environment.
"What intrigued me is that it is a dynamic tool," he said. "It's like a spot market on steroids. I liked the concept."
"It would allow me to maximize utilization and to overbook," he continued. "It would be a win for the shipper, a win for CFI, and a win for Post.Bid.Ship."
In 2011, Post.Bid.Ship began private beta tests with shippers and carriers followed by a public beta test with a broader set of customers. Development continued throughout 2012 and, for the past year and a half, Post.Bid.Ship has been in revenue mode with a commercial version that it offers to fleets, shippers and brokers as a monthly subscription.
The company has raised $2.5M to date, with funds coming from the AIC, the Arizona Technology Investor Forum (ATIF), Desert Angels and Point B Capital. The state of Arizona also added $400,000 in economic development grants to the company for hiring state residents, Hamstreet said.
Currently, about 500 shippers, 1,500 brokers and 2,100 trucking companies are registered with Post.Bid.Ship. About 60 percent of its shipper customers post loads weekly, he said. Besides posting loads to the community as a whole, shippers can also build a private network of carriers within the site.
When posting freight, shippers and brokers can establish a maximum rate as well as list instant rates for booking freight. Once both parties agree on a rate, Post.Ship.Bid facilitates the exchange of contact information. The average time that loads are available for bidding on the site is three to four days, he said.
To join Post.Ship.Bid, carriers have to have valid operating authority, insurance, an acceptable safety rating and meet other criteria on an ongoing basis to maintain their membership. The average carrier size is approximately 100 trucks and six of the 10 largest carriers in the nation are members, he said.
Rather than enter the site to search for available loads, carriers can use a Freight Alarm service to receive email notifications for load postings that match load preferences on criteria such as freight type, equipment type, and geography.
Most carriers use the browser version of Post.Bid.Ship but the company is currently in the process of creating a mobile app to make its dynamic freight marketplace more accessible to smaller carriers and owner operators, he added.
Carriers have many choices for load boards and freight matching services. Every provider strives to create the best possible experience. While bidding for freight online may not always be pleasant, it does save time in phone calls and e-mails which by itself is motivation to offer a discounted rate to secure loads.