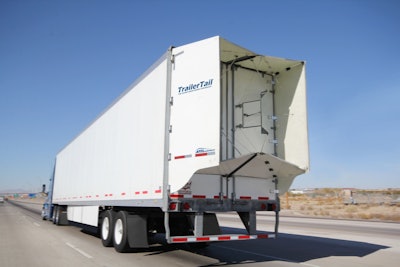 ATDynamics today announced that effective immediately, Wabash National Corporation, a producer of semi-trailers and liquid transportation systems, will offer ATDynamics TrailerTails as an option on select semi-trailer dry van and refrigerated van models.
Integrating TrailerTails into Wabash National production control systems offers fleet owners a convenient and cost effective way to equip new semi-trailers with state-of-the-art aerodynamics technology for maximum fuel efficiency.
According to ATDynamics, TrailerTails are lightweight, thermoplastic composite fairings that can be installed to the back of dry or refrigerated semi-trailers to reduce low-pressure aerodynamic drag behind the trailer. They complement Wabash National's DuraPlate AeroSkirt products, which reduce drag underneath the trailer. TrailerTails have been independently tested and are SmartWay verified as Advanced Trailer End Fairings, providing greater than 5 percent fuel economy improvement at highway speeds.
"Wabash National is an industry-leading manufacturer dedicated to innovation in trailer technology," said Andrew Smith, CEO and founder of ATDynamics. "We are honored to be working closely with them to offer TrailerTails to leading North American fleets."
TrailerTail technology has the potential to save the U.S. freight industry more than $20 billion in diesel fuel costs over the next decade. Equipping the U.S. long-haul trailer fleet with TrailerTails will eliminate more than 50 million metric tons of CO2 emissions over the next decade at a net profit to the industry.