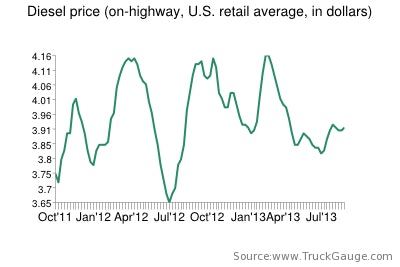 As prospects for military operations in the Middle East rise, the national retail price for on-highway diesel jumped 6.8 cents to $3.981 a gallon during the week ended Sept. 2, according to the U.S. Department of Energy's Energy Information Administration. It's the largest week-to-week increase since February. Diesel prices nationwide are 14.6 cents lower than the same week last year.
Average prices rose in all regions, led by a 8.3-cent increase in the Midwest. California has the nation's most expensive diesel on average at $4.21 a gallon. The Gulf Coast region has the nation's lowest diesel price on average at $3.897 a gallon.
Complete diesel price information is available on EIA's Website.