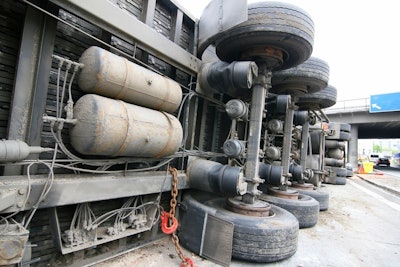 The Federal Motor Carrier Safety Administration is conducting internal and peer review on its Crash Weighting Research Plan it will release this year.
The agency is studying crash accountability as an accident predictor and the feasibility of incorporating it into a carrier's Safety Measurement System score under the Compliance, Safety, Accountability program. As it stands now, all crashes — even those that are clearly not the fault of the carrier — are weighted the same in a carrier's CSA score.
FMCSA's study examines if police reports have the quality and consistency to support crash weighting determinations. The research plan will help gauge if determining accountability would justify an annual $2 to 3 million needed to analyze up to 100,000 crash reports each year.
FMCSA spokesman Duane DeBruyne said the agency has used "many stakeholders," including the agency's Motor Carrier Safety Advisory Committee, to develop the study's scope and objectives. "Upon its release later this year, the agency will announce next steps," DeBruyne said.
The agency did not indicate what types of steps might follow or a timeline for proceeding.
FMCSA is working with the Department of Transportation's Volpe Center in developing a tool to fairly establish crash accountability and examine how it should affect a carrier's SMS score. The Senate Appropriations Committee, which had directed the FMCSA work with the center, listed a completion date of Sept. 30 for the Crash Weighting Research Plan.
The committee set a Dec. 1, 2014, deadline for the Government Accountability Office audit of agency progress with the program. The GAO examination includes gauging CSA's effectiveness in identifying the highest risk carrier sand how program interventions improve carrier safety, according to a June 27 committee report.