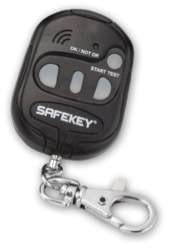 PeopleNet, a provider of fleet mobility systems announced that it is the first transportation industry technology provider to partner with SafeKey for helping customers protect assets and monitor driver well-being.
"The SafeKey system provides our customers another safety-management tool for safeguarding both drivers and vehicles," said Rick Ochsendorf, PeopleNet senior vice president. "The GPS-enabled key-fob 'check' module is like a portable insurance policy for supporting a driver's personal safety, and minimizing vehicle and cargo theft. SafeKey also provides an optional impairment configuration to strengthen CSA compliance."
With SafeKey the driver initiates an SOS panic button located on the SafeKey check module up to 100 feet away from the tractor. The remote panic signal sends a real-time alert to a 24/7 monitoring service or dispatch department via text and email that details the driver's exact location. The vehicle can be remotely disabled via the network, preventing engine engagement and therefore the theft from even happening. In addition, results are also saved on a secure server for fleet management review.
The average cargo and vehicle theft incident costs approximately $320,000 according to a report from FreightWatch International. The SafeKey ignition interlock, a reliable solid-state electronic circuit installed in the vehicle, prevents a vehicle from being started without the check module.