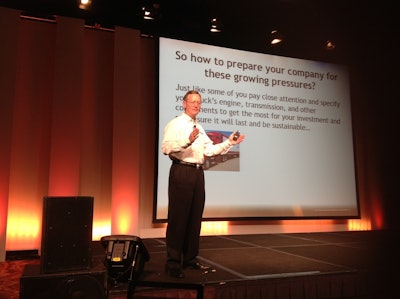 Scottsdale, AZ–For the past 22 years, McLeod Software has held its annual user conference east of the Mississippi River, primarily in Birmingham, Ala., near the company's headquarters. The company broke the mold this year by moving the conference out West.
Westward expansion defined 19th century America and the West continues to be a symbol of opportunity and conquest. At McLeod's 23rd annual conference, held at the Westin Kierland resort on Sept. 15-17, this unique American symbol entered the realm of transportation management software.
The dominant theme of the conference was that expanded capabilities of technology can give transportation companies the edge they need to take advantage of business opportunities.
McLeod Software showcased some of its expanded capabilities in the new version 12 release of its flagship products, LoadMaster and PowerBroker. The version 12 release contains a number of new features and modules added within the past year.
A customer relationship management (CRM) module is one of the most significant new features. The CRM module takes advantage of the data and integration with the LoadMaster and PowerBroker operating systems for managing sales prospecting and sales conversion activities. Sales activities can be planned and prospects identified and tracked through the entire sales process. As a transportation company begins to move freight for a prospect the salesperson is automatically notified. All parties involved in sales and customer service can access current load and financial information on each customer.
FlowLogix is a new visual workflow platform for document and business process management. The platform comes with a number of templates but is designed so that users can create their own custom workflows and processes without having to pay for custom programming. FlowLogix can also help to streamline the upgrade process for carriers and brokers to move onto the latest versions of LoadMaster and PowerBroker.
McLeod Navigator is a new product that extends the capability of the company's other business intelligence products by offering dozens of pre-summarized measurements in a data warehouse presented in a pre-configured dashboard. The dashboard is designed around the Balanced Scorecard concept to help end users understand key performance indicators in the context of a company's strategic goals for business performance.
Other new features include a container and rail intermodal module and expanded capabilities for McLeod Mobile applications, where fleet managers can now dispatch vehicles from a mobile device along with monitoring performance.
Building an edge
While giving the keynote address on Monday, Sept. 16, Tom McLeod, president and CEO, mentioned an internal metric he uses to determine the share of revenue the company invests in new software development. For the past three years, the company has been investing upwards of 20 percent of revenue, he said during an interview with CCJ. This strategy has accelerated its ability to add new software capabilities.
By comparison, large corporations such as Oracle that develop enterprise resource planning (ERP) systems for manufacturing and shipping organizations typically invest about 12 percent of their revenues in new development, said Mark Cubine, vice president of marketing.
Since 2010, McLeod has seen its revenues increase between 20 and 30 percent while adding 50 new employees each year. From a financial standpoint, 2013 is on track to be the best one yet.
"Our company has had a record year and we are very grateful for that," said McLeod. "We take that very seriously. We owe our livelihoods to people in the trucking and transportation business and that is something we never take for granted."
McLeod said the company is ideally positioned to offer its customers the technology and services they need to take advantage of new business opportunities. He described the company as the "largest software developer in North America serving the transportation industry that is dedicated to a single product platform." Focusing development and service capabilities around a single platform, he explained, helps with servicing a customer base whose needs continue to grow more complex.
The company's vision, he said, is to provide a single, comprehensive transportation platform that allows customers to encompass multiple modes in a multi-faceted business. The capability to operate intermodal, truckload, less-than-truckload, brokerage and more operations on a single platform reduces complexity and can help transportation providers build a competitive advantage.
Building that competitive edge is much more difficult today than in years past, he said. Reflecting on the early days of deregulation in the early 1980s, McLeod said that trucking companies were able to gain competitive advantage by spec'ing more fuel-efficient equipment. Today, the competitive edge has to come by making internal processes better.
Having the best system for a business operation involves choosing the right integrated products and services, he said. Also, the best-run companies know how to pick the right measurements, formulate a plan and communicate that plan to employees.
"People are creatures of habit," he said. "You'll need to continue to repeat the plan. You'll have to continue to work with people to help them understand what the change means in their daily routine in order to implement the plan."
McLeod told the conference attendees that many opportunities exist in the marketplace despite very modest gains in freight volumes. "Opportunity is the word I would use to describe today's economic climate," he said. "Opportunities are happening for companies that are paying attention."