Sit around any truck stop drivers' lounge and, most likely, drivers aren't complaining about their companies; they're upset with the way they're treated by shippers and receivers. So, if carriers truly want to show drivers that they're appreciated, it's time to make sure customers treat drivers with decency and respect.
That's the larger point I had hoped to make in my previous post, delivered just in time for National Truck Driver Appreciation Week. Based on comments posted on CCJ and OverdriveOnline.com, along with follow-up discussion on Road Dog Trucking radio and in several emails, the problem of driver treatment at the loading dock is indeed bad and possibly getting worse in many places.
How much does it cost to be decent to the essential employees of a business partner? How much does it cost to give a visiting driver access to employee facilities? How much does it cost to provide the security-service temp at the gate with instructions to direct arriving trucks to secure alternative parking while they wait?
The bottom line is that carrier efforts to recruit and retain good, professional drivers are undermined by factors that, arguably, are not the fault of trucking companies. That argument—and shrugging off responsibility—solves nothing, however.
So let's assume driver dissatisfaction at the dock must be addressed. Either carriers fix it, or get somebody to fix it for them.
With limited alternatives for its members individually, the Owner-Operator Independent Drivers Association has made a collective call on Congress and convinced a prominent member of the House Transportation committee to look at detention time. The effort has yet to result in legislation and regulation, but the U.S. Government Accountability Office has published a study that quantifies the problem and the Federal Motor Carrier Safety Administration likewise is considering the matter.
This clearly falls under the category of "be careful what you ask for," however. Do truckers really want the government to save them from themselves?
Although the case can be made that dock delays lead to rushed, potentially unsafe driving, problems at the dock are a business matter and government intervention gets sticky when it comes to a private contracts—and that's what shipping agreements are.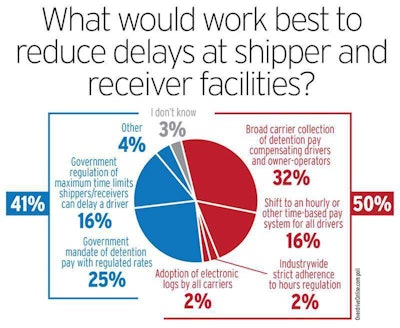 So it's up to trucking companies to get the message to customers.
In the previous post, I touched on a presentation to shippers by BB&T trucking analyst Thom Albrecht. He explains that when capacity gets tight, carriers are going to be able pick and choose their freight. Shippers, therefore, need to be carrier friendly, and that means becoming driver friendly.
"The challenge for your organization is how can you help carriers find 20 or 30 more minutes a day?" Albrecht said. "A carrier can work smarter, but are you working with them to help them accomplish their goals?"
Assuming a looming shortage of truck capacity, Albrecht proposes a '12-step program to become a shipper of choice,' with highlights including quicker payments and fair fuel surcharges, offering weekend freight, using multiple services from a carrier and, hey, actually making top management available to meet with trucking company representatives. (The trucking execs would still probably have to wait in the lobby for an hour or two.)
But seriously, are trucking companies prepared to leverage the market to secure better conditions for their drivers?
First, if your company is not using its electronic logging platform to track detention time, contact your vendor. A good e-log system should have the ability to measure exactly how long a customer keeps your drivers waiting. It's one thing to make a note of driver complaints, but a spreadsheet that compares dwell times across customer locations is a valuable tool.
More broadly, there's the Golden Rule. Biblically, the solution is simple: If everyone in the supply chain just made the effort to treat their partners as they'd like to be treated, we wouldn't be having this discussion. Instead, we operate on the notion that 'whoever has the gold makes the rules.' So, while capacity is tight, carriers need to demand better terms from shippers and receivers. Then it's up to trucking companies not to give back those dock fairness gains.
Of course, as the Corleones and Sopranos like to say: "It's nothing personal, it's strictly business." This is just before they make a management decision that's typically very painful for a competitor.
Drivers, likewise, are caught in the crossfire as shippers and carriers each fight to control costs down to the penny. That may be just business, but it's no place to put someone if you want them to feel appreciated.
(For additional data and discussion, have a look at the OverdriveOnline.com polls on solutions to dock delays and on detention pay programs.)