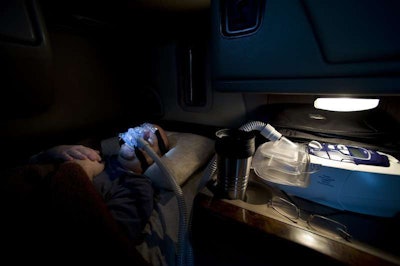 The U.S. House Thursday, Sept. 26, passed 405-0 its version of the so-called sleep apnea bill, a two-page piece of legislation that would bar the Federal Motor Carrier Safety Administration from using guidance on sleep disorder screening rules for carriers and instead require the agency to use the formal rulemaking process if it were to take action.
The bill does not require that FMCSA take any action on sleep disorder screening, however. It only requires that if the agency pursues any action, it do so via the rulemaking process.
After the House's version was introduced earlier this month, FMCSA did issue a statement saying it would use the rulemaking process for sleep disorder screening rules, as opposed to guidance.
The Senate introduced its version of the same bill this week, too, where it was referred to the Senate's transportation committee.
In a letter to House colleagues earlier this month, Rep. Larry Buschon (R-Md.), one of the bill's sponsors, said FMCSA-issued guidance would "sidestep a thorough analysis of the prevalence of obstructive sleep apnea among truck" drivers and not give the industry and the public the chance to properly evaluate it.
The letter also said guidance alone could make carriers vulnerable to lawsuits.
The legislation is supported by the American Trucking Associations and the Owner-Operator Independent Drivers Association.