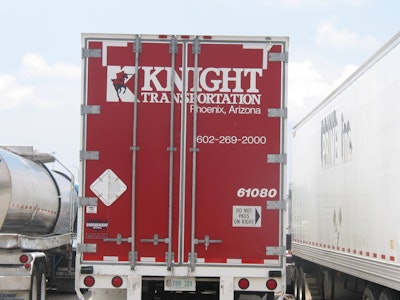 Phoenix-based truckload carrier Knight Transportation Inc. (#25 on CCJ's Top 250) has proposed to acquire all of the outstanding shares of long-struggling USA Truck Inc. (#44 on the CCJ Top 250) for $9.00 per share in cash.
The proposal to shareholders comes as Knight has been unable to persuade the USA Truck board of directors to pursue the deal, according to a filing with the U.S. Securities and Exchange Commission. Knight offered the deal to the board in an Aug. 28 letter. The offer included a suggestion that the price could be made higher, after a closer look–and also that Knight would be willing to go public with the offer if the USA Truck board did not respond.
The proposal values the equity of USA Truck at approximately $95 million. Knight currently owns 829,946 shares of USA Truck common stock, representing approximately 8 percent of shares outstanding, according the SEC filing.
"We are confident that USA Truck shareholders will share our strong belief that Knight's $9.00 per share all-cash, premium proposal would provide significant and immediate cash value that is significantly more attractive than USA Truck's standalone prospects," said Kevin Knight, chairman and CEO of Knight. "For Knight's shareholders, we are confident that a combination with USA Truck would create value by further enhancing our position as a leading provider of multiple truckload transportation services in North America."
The two carriers operate in complementary service lines, and the proposed transaction would create an operationally and financially stronger company, Knight added. Knight also contends his company has "a demonstrated history of operational excellence" and can "meaningfully increase" the financial performance of USA Truck's operations.
"Knight is ready and willing to complete this transaction, and we are prepared to take the necessary steps to realize the benefits inherent in this proposed combination," he said.
Two years ago, Celadon Group (#36 on the CCJ Top 250) made a similar run at USA Truck, buying more than 6 percent of the outstanding shares. The USA Truck board, however, declined to meet with Celadon to discuss a possible merger. When Celadon sold the shares in February 2012, USA Truck's president and CEO at the time, Cliff Beckham, called the brief period "a distraction" for management and "a source of anxiety" for employees.
USA Truck has yet to fully recover from the industry downturn from the 2008-2009 recession, and ongoing turnaround efforts have yet to yield consistent profits.
The total value of Knight's proposed transaction is approximately $242 million, including USA Truck's approximately $147 million of outstanding net indebtedness, according to the Knight statement.
The proposal represents a premium of approximately 39 percent to USA Truck's closing price on Wednesday, Sept. 25.
The premium comes to approximately 50 percent to USA Truck's average closing price for the ten trading days preceding the announcement; and represents a premium of 58 percent to the closing price on Aug. 27, prior to Knight's Aug. 28 proposal letter to USA Truck's board of directors.