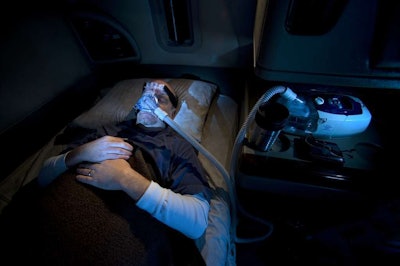 Legislation introduced into the House this week would force the Federal Motor Carrier Safety Administration to develop a formal regulation rather than guidance if it were to pursue any action on sleep disorder screening and treatment.
The bill's sponsors, Rep. Larry Buschon (R-Md.) and Rep. Dan Lipinski (D.-Ill), say in a letter to their House colleagues that the estimated annual cost of screening, diagnosing and treating obstructive sleep apnea "could exceed $1 billion annually," and that by requiring FMCSA to pursue formal rulemaking rather than guidance, the rule could be properly evaluated as to whether its benefits justify the costs to the industry, the letter says.
That type of analysis would not be conducted if guidance alone were issued, the letter states.
The bill would not require FMCSA to make a sleep apnea rule by itself, though, and would not require any outcome if the agency does pursue a rule. It only requires that any action made by the agency regarding sleep apnea screening be made via the rulemaking process, "in the interest of due process," the letter says.
"Guidance alone would sidestep a thorough analysis of the prevalence of obstructive sleep apnea among truck and bus drivers, the range of possible actions to address the problem, and the full consideration of the views of all effected stakeholders, including the drivers themselves," according to Buschon's and Lipinski's letter to colleagues.
Moreover, the letter says, guidance alone would "make the industry extremely vulnerable to litigation."
The legislation is endorsed by the American Trucking Associations, Owner-Operator Independent Drivers Association and other stakeholders.