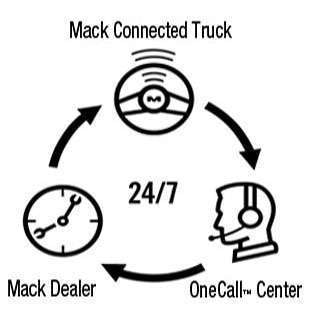 Mack Trucks Thursday launched Mack GuardDog Connect, a telematics service solution built in its GuardDog maintenance monitoring system.
John Walsh, Mack vice president of marketing, says GuardDog Connect enables quick diagnosis of issues, proactive scheduling for repairs and confirmation that needed parts are in stock and ready to install, all while the truck is still on the job.
GuardDog's maintenance monitoring system keeps an eye on the truck and makes the driver aware of potential issues. If the situation is something like a clogged filter, low fluid level or upcoming recommended service interval, GuardDog sends a message to the driver via the Mack Co-Pilot display on the dash.
The new GuardDog Connect, programed to diagnose 30 engine and aftertreatment faults, is fully integrated into the truck when manufactured and kicks in when a serious fault is detected.
This triggers a series of events that starts with an automatic alert to Mack OneCall, Mack's 24/7 customer support center staffed by trained support specialists.
Upon receiving the notification and while the driver continues working, the Mack OneCall team immediately evaluates the situation, and a case is opened in the Mack ASIST web-based fleet service management platform.
The owner or fleet service manager is contacted via email, phone, text or other means of their preference, and the repair planning process begins through a customer-chosen dealer. The Mack team can help the customer find a dealer along the truck's current route, Walsh says, further saving time.
This process includes verification that a bay and the necessary parts are available while Mack OneCall electronically sends repair instructions to the dealer.
Walsh says every step of the process happens within minutes of the initial GuardDog Connect heads-up and is managed by Mack OneCall.
"The end result is that technicians are fully prepared when the truck arrives, getting the customer back on the road faster," he adds. "Customers have enough on their minds today without having to worry about the time it takes to diagnose a problem with their vehicle, and get the situation addressed."
"GuardDog Connect is a service solution, not an IT solution," said David Pardue, Mack's vice president of aftermarket business development. "It expedites the decision-making process so the right decision is made about when and where a repair is done."
Dave Albert, Director of Mack's Aftermarket Services, says GuardDog Connect can take upwards of a day out of each unplanned service event.
A secondary improvement is "fix it right the first time," Pardue adds, by providing technicians with diagnostics information directly from the truck.
"The fault code tells you exactly what is wrong, and what is needed to fix it," he adds.
"This thing is communicating clearly what the fault code is, so it takes a lot of the burden off the driver or owner operator," says David McKenna, Director of Mack's Powertrain sales.
GuardDog Connect, which spent more than a year in pilot testing with a handful of fleets across the country, will come standard and free of charge for two years on Model Year 2015 Mack Pinnacle, Titan and Granite models with Mack engines scheduled to roll out in January 2014.
GuardDog Connect utilizes cell phone towers for communication and is part of Mack Pedigree Uptime Protection.
Subscription to GuardDog Connect service ranges from $200 to $600, depending on the length of the commitment.
There is an aftermarket kit for pre-2015 Mack trucks with OBD13 engines, however, Pardue says each truck would be evaluated on a truck-by-truck basis to make sure the components would fit appropriately.