Mobile applications with location-based features make it possible to monitor route performance, meet customers' unique information needs, and improve driver workflow.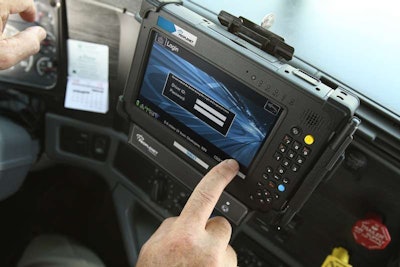 Cardinal sends route plans from TMW Suite to a mobile delivery tracking system called Cardinal Activity Tracker (CAT). Within the SaaS-based software, each stop on the route is categorized by customer type. When making a pharmaceutical delivery, for example, the workflow is set up differently than for a delivery of office supplies. A driver would be prompted to scan each individual drug in a package and then scan the credentials for the person accepting the delivery, along with other customer-specific requirements.
With XRS Corp.'s new FLX (pronounced "flex) module for its XRS mobile application, users can create their own custom driver forms for capturing data, automatically, from the planned stops in a route. The data captured in FLX forms can be integrated with routing software and used in route analysis to compare plan versus actual performance.
PeopleNet has an integrated system for fleets that use route optimization software. The route software generates a plan and exports a file containing the sequence of stops for each driver. The file is exported to PeopleNet Link, an integration application that fleets attach to their networks in the form of a network appliance.
Within PeopleNet Link, the route file updates a database table where additional features and functionality are added to the route plan. For instance, fleets use PeopleNet Link to add a "geofence" or virtual perimeter to each stop location to identify when their vehicles arrive and depart.
Specific forms for drivers to complete can also be tied to the geofences to create an automated driver workflow. When drivers arrive, a pre-populated form appears on their in-cab device to prompt them to enter additional details like piece count and bill of lading number for a pickup.
The route plan, geofences, custom workflow forms and other details added to PeopleNet Link are sent to PeopleNet's mobile in-cab application. In turn, the information captured on the mobile application comes back to PeopleNet Link for reporting on plan versus actual performance and for sharing with other management systems.