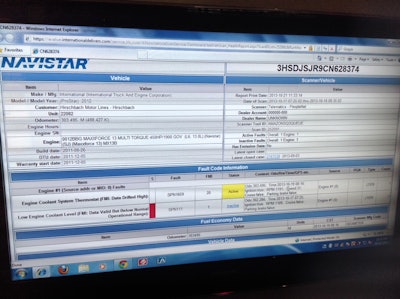 PeopleNet, a Trimble company and provider of fleet mobility technology, announced that it is providing Navistar International Corporation engine diagnostic telematic information as part of an agreement that enables Navistar to create engine health reports for the vehicles it manufactures. Fleets can access reports and monitor active faults via a portal with any type of computing or smart device.
"Engines are more complicated as a result of evolving emissions standards. The integration of PeopleNet's real-time engine diagnostic data with our data will improve monitoring so we can keeping vehicles moving," said Brian Mulshine, Navistar director of service performance and technology.
In a related agreement also announced at the 2013 American Trucking Association Management Conference & Exhibition in Orlando, PeopleNet's data integration and analytics sister company Vusion can provide Navistar mpg-focused analytics using data provided by PeopleNet. Vusion can provide normalized benchmarking by accounting for driver, customer, and environmental factors such as speed, RPM, ambient temperature, topography, and load weight. This analysis will allow Navistar to more accurate assess the mpg of its vehicles.
"Navistar is taking a significant, proactive step to help their customers reduce maintenance and downtime costs. It is also a leader in leveraging analytics to understand how to design and build vehicles to better meet the specific needs of today's mixed fleets that are working within diverse markets and serving a variety of customer needs," said Brian McLaughlin, president of PeopleNet.
PeopleNet also announced Mobile PeopleNet Fleet Manager (PFM), a new mobile site for accessing vehicle and driver data, maps and messaging through an iPad. In making the announcement at the ATA, senior vice president Rick Ochsendorf said: "Today's managers are increasingly relying on mobile computing to help them do their jobs better and more easily. Mobile PFM gives them instant wireless access to the information they need for decision making."
Luckey Logistics is using the Mobile PFM; and according to IT Manager Patrick Barnwell, "this application helps us meet our goal of running our business with fewer employees than other companies our size. The advantage of instant access to vehicle and driver information, map-based location information and vehicle messaging is priceless. Even when our executives are at their desks, they're using their iPads. Nothing to boot up, no connection to look for. And our dispatchers can manage their drivers from anywhere 24/7."