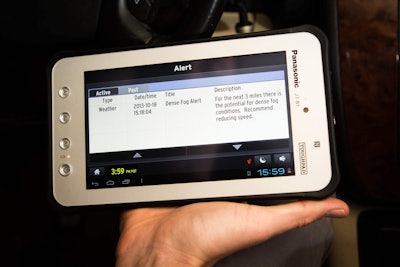 Telogis has expanded its navigation platform to meet the specific needs of commercial drivers of all vehicle types. Telogis Navigation 5 has new, driver-oriented features that make it easier to use and give companies access to accurate and timely road-condition information, the company says. Telogis Navigation 5 (also sold through partners as NaviGo, powered by Telogis) will be available this fall as an extension.
"When navigating a Class 8 vehicle through traffic, bad weather, complex interchanges and final-mile approaches, drivers want know that they have a simple means of accessing the most accurate road data and truck-safe routes," said Newth Morris, president, Telogis Route and Navigation. "We worked closely with customers on Navigation 5 to meet the complex needs of today's drivers and integrate the features they wanted most. The enhancements we've made will help drivers maximize safety, productivity and uptime while driving down out-of-route miles and fuel waste."
The all-new Telogis Navigation 5 features:
New look and feel: All-new user interface (UI) including major enhancements to style, color scheme, menus and ease-of-use
Junction view: Shows drivers a clearer vision of complex maneuvers in order to more safely navigate through freeway/highway exits, interchanges and junctions
Upgraded community-based navigation: Addition of two-way communication to close the loop with drivers who provide feedback on road conditions and routes
Highway signage: Detailed, realistic highway signs that mirror actual signage within the UI help drivers make safer key directional decisions
Driver alerts: Drivers will now be informed of road status information including speed, weather, traffic, terrain, sharp turns and other critical safety-related events
Mobile enterprises that run Telogis Navigation automatically connect their drivers to a community-based network of more than 120,000 individual drivers who continually provide real-time feedback on road conditions, road restrictions and truck-safe routes. The application has text-to-speech capabilities and customizable directions for specific yards, approaches and events. Back-office teams can also provide drivers with information customized to a specific job including notes, contact information and arrival instructions.
Telogis also provides a Software-as-a-Service (SaaS)-based platform for companies that require dynamic routing, real-time work order management, telematics, mobile integration services and commercial navigation for their mobile workforces.
Telogis is showing its Navigation 5 at booth No. 405 at the ATA Management Conference and Exposition in Orlando this week.