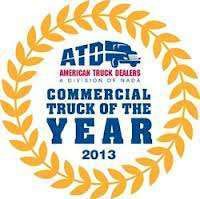 Another year, another Truck of the Year judging in the books.
If you follow me on Twitter (and you should, at @JackRobertsCCJ) you know I was in the urban sprawl of Orlando, FL, last week ahead of the ATA Show to help judge this year's truck of the year entries in both medium- and heavy-duty classes.
In my weekly CCJ and Overdrive blog ahead of my trip I noted how I'm always asked about having a favorite truck and how I think everyone in the business of building trucks does a fine job in designing to their customer's needs.
The entries as this year's event once again confirm that impression. But don't just take my word for it. Each entry this year got a brief video filmed by yours truly, with a manufacturer spokesman detailing why the great features designed into these vehicles and how they benefit fleets and drivers alike. They're all worth a quick look (video links below):
Heavy Duty Entries:
International ProStar+ Daycab
International's Jeff Roberts on the ProStar+ Daycab
Kenworth's Allen Fennimore on the T880 dump truck
Peterbilt's Shawn Schneider on the Peterbilt Model 579
Medium Duty Trucks
International's Doug Pierce on the new TerraStar 4×4
Peterbilt's Charles Cook on the right-hand-steer Model 220
Spencer Nicole with the Hino 195HDC