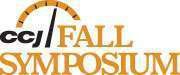 An hour-long session at CCJ's Fall Symposium next month will feature leading fleet and industry executives discussing ways fleets can improve driver turnover and find new qualified driver candidates.
The Symposium will be held Dec. 2-4 at the Montelucia Resort & Spa in Scottsdale, Ariz. The Symposium's $395 registration rate includes all sessions, hotel accommodations, meals and golf or spa activities.
The recruitment and retention panel will feature John Hancock, director of training and driver recruitment and Prime Inc.; Keith Tuttle, president of Motor Carrier Service, Inc.; and Don Lefeve, executive director of the Commercial Vehicle Training Association.
Click here to register for the CCJ Fall Symposium or to learn more about the activities and speakers.
The video below offers an overview of last year's event to give you a feel for what it's like:
[youtube BHxEgOrBK-I nolink]